I came across an interesting story about a start-up called Whisper that came out of stealth funding recently. The company just finished a series B fundraising exercise which brought in 35 million dollars. The business plans to introduce AI-powered hearing aids that self-tune and update over time. The CEO Dwight Crow, says the funds will be put toward the company's go-to-market efforts as it ramps up production of its first product, the Whisper Hearing System. It piqued my interest in several ways, we know that many manufacturers are offering some sort of machine learning or artificial intelligence in the hearing aid world right now but how Whisper proposes to do it is very different. That's not the only thing that is different about them, their plans for continuous upgrades and how you will pay for the system is completely different from anything we have seen as well. Let's have a little look.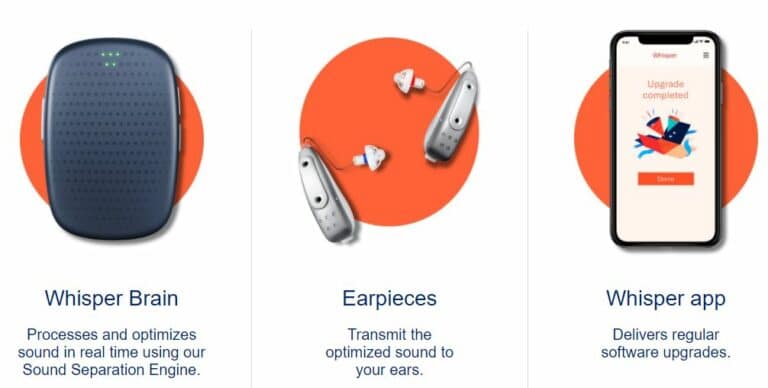 The company announced on the 15th of October the launch of its flagship product, the Whisper Hearing System, which they said is " a first-of-its-kind learning hearing aid that improves over time". According to the announcement, the Whisper Hearing System offers regular upgrades to give wearers the benefit of the very latest advances in hearing technology. They said, "Rather than owning a hearing aid that quickly becomes outdated, Whisper wearers will benefit from new features or sound processing improvements to the company's proprietary Sound Separation Engine, which uses artificial intelligence algorithms to optimize sound in real-time for a consumer's surroundings".
A System Not Just Hearing Aids
The Whisper Hearing System is just that, a system which compromises of earbuds which look like Receiver In Canal Hearing Aids, a small pocket device which they say is the brain of the system and a mobile app which allows users to control the system and apply upgrades. So as you can see above in the picture from left to right:
The Whisper Brain, a pocket-sized hub, which is the centre of Whisper's learning capabilities and works wirelessly with the earpieces to enable a proprietary AI-based Sound Separation Engine
The Earpieces, which are worn on the ears so they can take in and transmit sound
The Whisper mobile app, which delivers regular software upgrades in addition to allowing users to control their Whisper Hearing System from their phones
How it Works
They say the system is designed to learn from the ground up and has a unique hardware configuration that drives it. In essence, the pocket hub does all the thinking while the ear-level devices are simply for producing sound. The app offers you a way to control how that sound is produced and it allows them to continuously upgrade the system as they learn more and more from field use.
I spoke quite a while ago about how a deeper integration to a Smartphone through Bluetooth could provide for greater advancements in hearing technology and in particular, strategies to deal with background noise. The key was that the chipsets and working memory of any Smartphone were hugely more powerful than any hearing aids primarily because of the size and the battery power.
Whisper seems to believe that offloading the processing of sound to a unique dedicated and powerful device for that purpose is the way to go. That is exactly what their pocket hub is for, to process the sound and bounce it back to your ears.
Latency
The one thing I am very interested in is latency, the delay that may be introduced by bouncing audio and processing it before bouncing it back. Any latency above a certain time delay will ensure that the devices will be out of sync with any residual natural hearing. It would make them torture to wear.
I figure that the company has overcome such latency issues because otherwise, they would not be launching the devices. I would like to know a lot more about what they are processing in the hub and what the latency of the devices is. I plan to reach out to the company to get a handle on that in the next few days.
The Business Model
Another way the business differs is through their declared business model. In essence, it is a lease or subscription model. The system will be available via a $179-per-month plan that includes ongoing care from a hearing professional, a lease on the Whisper system, and a three-year warranty that covers loss and damage.
They plan to partner with a network of local practices around the country for this offering. During the initial phase of development, they were already partnering with some hearing healthcare practices so they will have a head start and inside information to help them expand that network.
Will it be Successful?
I think it could easily be a successful offering, but it will depend on the eagerness of hearing healthcare practices to get onboard. The subscription model is not one that they will be used to and some may not be interested in it. Of course, even if the professionals come onboard, success will then depend on consumer sentiment.
Will consumers be interested in this type of system firstly and paying for it in this way? I think there will be a large cohort of consumers who will see the payment model as one that makes sense for them. I mean most people buy products in this way from mobile phones, through to cars.
Of course, even when they overcome professional intransigence and consumer interest, the product will have to work well for it to succeed. A lot of variables, but it will be most interesting to see it play out. I am really interested in this system, I see the value of offloading the processing to a larger, more powerful and dedicated device. It could mean huge advancements in noise management and speech understanding.
Having said that, I do wonder about the latency issue and how they will overcome that to produce an acceptable sound for the user. One way or the other, I think this concept has legs and it will be interesting to see if other traditional manufacturers now begin to explore the possibilities.
Like us on Facebook by clicking the button below to keep up with our latest utterances. Alternatively, if you don't like Facebook, sign up to the newsletter below. It is important to remember, a hearing aid isn't properly fitted unless they do Real Ear Measurement.