About a month ago we became aware of some problems with The Beyond Fusion and iPhone streaming and connectivity. It is rather unfortunate because they are outstanding hearing aids and when they work, the quality of the streamed audio is the very best in the business. For now though, reliably streaming audio is the biggest problem. Our initial interest was raised by a colleague who had two cancellations of Widex hearing aids. Something that has never happened before, Widex hearing aids in my experience stick.
Further Update, Widex To Release Firmware Update To Resolve Problems
When I discussed it with him the problem was the Beyonds and it's failing as a Made For iPhone hearing aid. It just doesn't work properly. The customers had consistent problems with the connection between hearing aids and iPhone that were so irritating, they no longer wanted to keep the hearing aids. So we decided to look into the problems and were surprised to see that they were common across the world. Quick addition here, Dan Tibbs, a friend and colleague has put his two cents worth in and it is worth reading, you can find it at the end of the original article.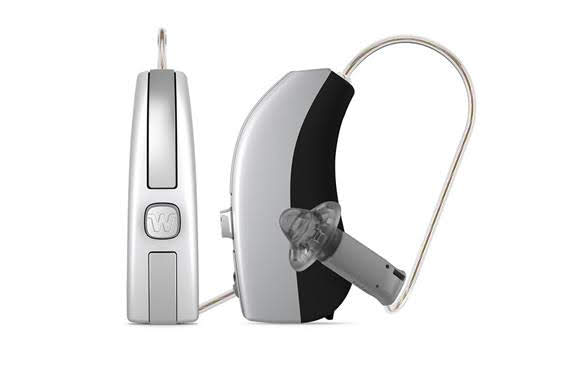 Great Hearing Aids, Don't Work With iPhone
All of the problems seem to be related to the pairing of the hearing aids to the iPhone. During transmission it appears that the audio signal is dropped constantly by one aid or, it seems that the signal may jump from one ear to the other for no apparent reason. The other complaint was described as the stuttering of the signal, like it was dropping and connecting again very quickly. To give you an idea, I have quoted users below and referenced where the quotes can be found:
"So far, my experience has been really good with these hearing aids. First, the actual hearing improvement has been great. Widex does a good job with music, and the sound quality has been superior to my previous Phonak aids. I am hearing my wife and children better now too. Some of that may just be having the hearing aids set louder. Either way, I'm happy with the hearing aids as far as hearing aids go. Now to the wireless functionality. I am using the aids with a new iPhone 7, which I bought specifically to use with these hearing aids, and the experience has been hit or miss. The hearing aids and phone seem to stay paired using bluetooth, but the audio streaming sometimes only goes through to one of my hearing aids... this happens with calls and streaming music, and I'm not sure, but it seems to happen more when the batteries are low. Last little issue is the battery life. I've been getting around 5 days on the batteries, with minimal streaming. I'm wishing they had a rechargeable option! Eddie P on Hearing Tracker"
They really do improve the sound over my previous hearing aids, however they also continually disconnect from the bluetooth and can't reconnect without me having to open and close the battery door. This is especially problematic as they are connected to my phone's bluetooth for work calls, and I never know when it's disconnected, so after I answer the phone, I realize one or the other has been disconnected and have to go through the reconnection process. Dena C on Hearing Tracker
One interesting comment was on the Apple Support Community, it was as follows:
I have a pair of Widex beyond hearing aids. I am using ios 10.3.2 beta version. When I talk on the phone, the sound seems to jump from ear to ear. I also have a problem with a clicking noise when I am connected to apps that have sound. Both of these problems are very annoying and I am about to give up on hearing aids. I also tried a pair of Oticon opn hearing aids and had the same problems. I started with the current version ios and was told that apple was working on an update for this problem. That's why I updated to the beta version. It doesn't seem that the problem has been addressed. Does anyone have any knowledge regarding this? And can be found here for the moment.
There are other discussions across the web similar in nature, however, there seems little point bringing them up. The key though, is that the hearing aids aren't working well for the purpose they are designed. I personally would find that hard to believe of a hearing aid from Widex. The very idea would give the R and D department in Denmark a fit. So I talked to a couple of people I know in relation to the underlying issue. I was talking to Widex, but they never got back to me.
The Problem is The iPhone
So it appears the problem is the iPhone, since one particular update of the ios it appears that there has been real problems with the Bluetooth system on iPhones when paired to hearing aids. In fact, the problem may not, and does not appear to be isolated to just Widex. I have heard reports of Oticon having similar problems and I am asking around about other manufacturers. Steve has his LiNX 3D 9s paired with an iPad on ios 10.3 and he isn't having any issues, however, that may be because it is an iPad, bigger bluetooth antenna maybe or just bigger battery.
Bluetooth Hearing Aids or Bluetooth Compatible
We wrote a cornerstone article on Made For iPhone hearing aids that are available called funnily enough Blue tooth Hearing Aids, Made For iPhone Hearing Aids. In it we detailed what the difference was between Bluetooth Compatibility and Made For iPhone. The Blue tooth compatible systems that allow connection to a smart phone via a streamer device are outstanding. Steve owns an Android phone and he uses a PhoneClip + with his LiNX 3D 9s to stream calls and audio. He is writing an article about it right now but he is pretty happy.
The Widex Unique can be used with a Com Dex to do the same thing. I know streamers are a pain, but you know what they offer an outstanding and stable connection. That can't be a bad thing. For now, and just for now because Apple might sort this out soon enough, the Beyond is a fantastic hearing aid, but most irritating.
Update: 08/06/2017
I was speaking to Dan Tibbs, great guy and an ex colleague from the States. He was surprised by what I was finding, because he has a lot of experience with the Beyond, he has been wearing them for nearly six months. He has them paired to an iPhone 6s that runs on IOS version 10.3.2. His app version is 1.1.0 (20097.18.3) and his hearing aids firmware version is 4.00. So with the scene set, let's take a look at Dan's experience.
Dan is in a similar boat to Steve, he suffers severe bilateral sensorineural hearing loss and he has over 35 Years of hearing instrument experience with multiple hearing aid brands. He says that the sound quality of streaming is outstanding and the performance in wind is the best he has ever experienced. He loves that the hearing aids are IP68 rated (almost waterproof) and that firmware updates for the hearing aids will be pushed to end-users through the Widex App. Dan said that he really enjoys the function of the Universal program, he finds it sophisticated enough to not need to change programs.
While he is both a technocrat and an experienced user, he says that he just prefers ease of use and "set and forget" performance from electronics. I just reckon he is getting lazy in his old age. Dan has tried several different batteries and he finds now that he is getting 4 to 4.5 Days with frequent streaming. Having said that, the battery has to cope with power receivers and the significant output to meet the needs of Dan's hearing loss. I will hand over to Dan for an explanation of his own experiences:
"I could spend a lot of space discussing the various options, features and background of the devices, but for today's discussion, I will focus on the streaming quality. I find the Widex Beyond offers an excellent sound quality. Producing sound in stereo, I find the function of the devices is consistent. As Geoff has mentioned, I use an iPhone 6s. I've not had a desire to upgrade to the iPhone 7 for several unrelated reasons, but have heard some issues with connectivity to the iPhone 7.
The issue doesn't seem to be related specifically to the Widex Beyond but to the architecture/software of the iPhone 7 as you can find sources describing iPhone 7 issues with other Bluetooth headset platforms (see ref below). I think it is completely reasonable that hearing aid manufacturers may not be able to control the architecture on smart phones, particularity considering how often updates seems to get pushed through to our phones.
However, the net effect to the end-user that a phone model doesn't "work well" may, in their mind, reflect more on the hearing aid than the phone (even if the phone is the culprit). I suspect that education on this issue may help both the dispensing professional and the end-user. At the end of the day, end-users have a level of expectation regarding how the hearing aids and their features/accessories should perform regardless of where the original "issue/problem" may be generating from. It is because of this, I like that the Beyond can receive firmware updates directly and not need a visit to the dispensing office.
The only time I have an issue with a drop off in sound quality is when I'm streaming DirecTV Now or YouTube and the network connection slows and the picture pixelates. At that point, the audio may get temperamental and drop in one ear or get static. When I play music stored on my phone or use Pandora, it works flawlessly for me. That being said, interference in your environment and what stage your battery is in their life cycle can impact streaming performance. When a battery gets low, many features, including streaming range may start to weaken.
We see this in many electronics when battery life gets low, performance doesn't remain optimal. Staying on top of battery changes will help ensure consistent performance and streaming. In all, the Widex Beyond offers me a consistent, high-fidelity performance that is equivalent or superior to other direct to iPhone streaming devices I've listened to. Most challenges end-users experience with a direct 2.4 GHz connection, will likely be related to: the battery, network strength, environmental interference, or system architecture issues that likely impact many 3rd party vendors interfacing with that architecture. Future hearing aid and phone firmware updates from the manufacturer and appropriate expectations from the end-user should help."
So Dan is getting on quite well and hasn't really had any problems over and above what you would expect with Bluetooth. Bluetooth is inherently hinky, it is a quite irritating system, and you can find a device like a Bluetooth headset or speaker working seamlessly for weeks and then just suddenly decide quite petulantly not to connect. Dan like myself, has spoken about the use of direct streaming and streaming through intermediary streamers. His article is worth a look, and it can be found here: https://www.linkedin.com/pulse/direct-24-ghz-streaming-vs-intermediary-ghz106-mhz-accessory-tibbs
You can read about iPhone 7 Bluetooth issues here: http://gizmodo.com/the-iphone-7s-bluetooth-is-totally-screwed-up-for-some-1787276957 and here http://www.macworld.com/article/3122614/iphone-ipad/iphone-7-review.html
If you like what you see, share it so others can benefit
Find An Independent Hearing Aid Centre in Your Area
Arrange a consultation with a trusted Independent hearing healthcare professional in your area