Widex Telecare Solution, Hearing Aid Support Remotely
Widex introduced a remote care system for their hearing aids in 2019. It is one of the most in-depth telecare systems available as it allows the professional to undertake any and all of the fine-tuning functions they would in a face to face meeting. It is an exceptional system and if you are looking for support with your Widex hearing aids during the COVID-19 crisis, it is ideal. Let's take a look at it, how it works and how it is set up.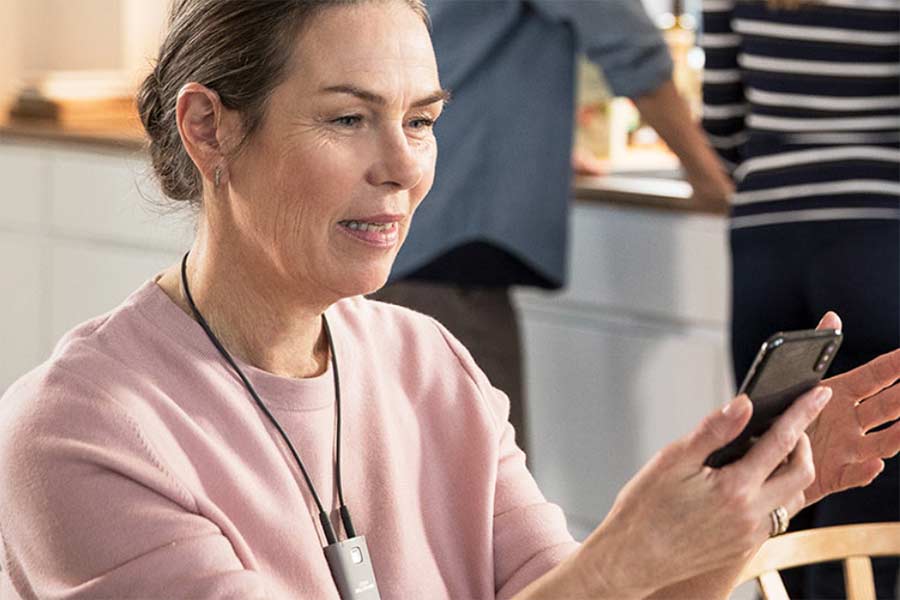 What Do You Need?
For the system to work, the customer needs three things, a Widex hearing aid that is wireless-enabled, a smartphone and a Remote Link (which you can see hanging around the ladies neck in the picture). Your professional should be able to have a Remote Link shipped to you after they have registered it against your record in the programming software. When you receive the Remote Link, you need to download the Widex Remote Care app to your smartphone. The system to pair the Remote Link to your form is pretty easy and your Remote Care app will talk you through it. Once you have paired the Remote Link to your phone, you are ready to go.
How is it Done
As I said, your hearing care professional will have to register the Remote Link against your record on their programming software. They send the device out to you and you can notify them when you have set it up. They then set up an appointment time with you as normal, except you simply join the meeting in your smartphone app. Make sure your Remote Link is turned on and ready to go. Your professional can then connect to your hearing aids via the remote link and make any changes they wish to while discussing your experiences with you.
Service Tracker
A really cool tool that Widex has had for a very long time is the service tracker. It allows the programming software to interrogate the hearing aids to see if they are working at optimum functionality. It can identify things like blocked microphones or receivers. It is also available via the remote system which helps with troubleshooting the aids if you think there is an issue.
Full Control
The system offers full control, it allows the hearing care professional to undertake every step that they can in the clinic including the in-situ audiometry feature and the feedback management assessment. That gives a lot of versatility in handling any problems that you may have. Widex are the only ones that went with a remote link to handle programming. The reason for that is the Widex Link wireless technology that they introduced with the Clear hearing aids in 2009. It is a robust wireless data transfer protocol that is still the best system in the hearing aid world.
If you need help with your Widex hearing aids, have a chat with your professional and see if they can get you up and running on the remote care system. Take care out there, stay home and stay safe.