I'm writing this while the UK is still on lockdown due to COVID-19. I wanted to get an update to my hearing aids but UK-based hearing aid practices are not allowed to see patients face-to-face.

Just recently, several hearing aid manufacturers have been releasing (or updating) remote assistance apps that allow patients to get their hearing aids altered without leaving their house.

Seeing as I'm wearing a pair of GN ReSound LiNX Quattros and GN just made their Remote Assist software available to practices, I thought I'd give it a go. Here's a quick video explainer of how it works:
I'd been meaning to get a specific restaurant program for a while, the program I use 99% of the time, called All Around, works pretty well in noisy pubs and restaurants but I knew a specific program would be even better. With "All Around" loud conversations from people nearby can overpower the person in the group I'm trying to listen to.
Requesting Assitance
I clicked on the "Request Assistance" feature in the GN Smart 3D App I have on my iPhone. It asks me some questions about the nature of the problem I'm having with my hearing aids and then asks me to write a short paragraph explaining the problem - once I've done that the request gets sent to my Audiologist, Katie.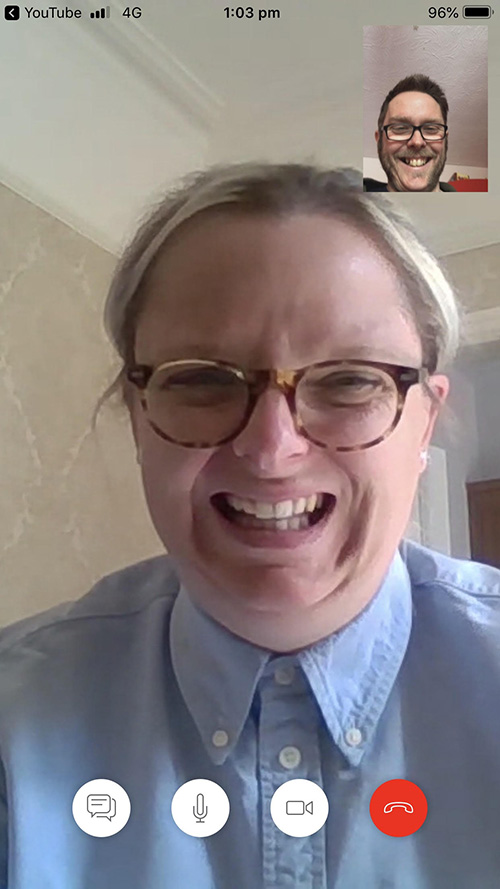 It's Like FaceTime
We scheduled a Remote Assist session and Katie called me on my iPhone via the Smart 3D App, this rings on my phone like a normal phone/video call. When I pick up we are in a video call, the key thing is that we are calling with the Smart 3D App, so whilst we are talking Katie can also send updates to my hearing aids for me to try during the session.
Lipreading
I stream audio to my hearing aids from my iPhone for everything these days, it's amazing. I was doing this during the Remote Assist session too but at some points, when Katie wanted to send updates to my hearing aids, I had to revert to listening through the phone's speaker as Bluetooth was needed to send the software update to the aids, rather than audio. Also, there were two points during the session, when Katie saved the updates, where my hearing aids switched off and I had no sounds at all.

So, the point of saying all that was that at several points during the session I was relying heavily on lipreading. Which was fine for me, I could see Katie's mouth clearly and followed along with no problem. Katie, of course, let me know ahead of me losing audio what was going to happen, so there were no surprises. It's an important point for any hearing aid provider who is going to use remote working:

Make sure your patient can see your face and mouth. We don't want a wide-angle shot of your office, a close-up of your face is the way to go.
Also, worth mentioning that a strong Internet connection is beneficial. If both parties don't have a decent connection then the video might get pixellated and be difficult to see.
Software Updates
So, we video-chatted about COVID, the weather, the hearing industry, and most importantly, dogs. During that time, Katie configured and sent a restaurant program and also updated my hearing aids with the latest software release that gave me a new program for use outside in windy conditions, and some new controls on the integrated iPhone menus.

The actual updating of the hearing aids was pretty seamless and didn't require much technical knowledge from me. Katie instigated the upload and I just waited for it to complete, and when it did my hearing aids came back on as before.

I did have to uninstall and re-install the Smart 3D App on my phone before we started as I had an out-of-date version and I also had to restart the phone.
The Same as Being in the Practice
Remote assistance is still a new thing, I'm not sure how many practices are using it but the COVID situation has made it a more pressing concern. I was speaking to a hearing practice in Oxford the other day, they said they had patients who were in desperate need of hearing aid fittings and due to government rules they couldn't see them in the practice. Now that more robust remote options are hitting the market they can help the patients who would otherwise have a long wait.

Us patients want the best healthcare with the minimum of fuss. So is Remote Assist good enough?

Yes. For me, it was the same as being in a consulting room. I explained the difficulties I was having, Katie fixed them, job done. Any hearing aid fitting relies on good communication between the patient and the professional and being remote didn't impact on the communication at all.

Having the patient at home is probably a benefit for both the hearing provider and the patient. Often, in the past, I've been for a consultation and had my hearing aid re-programmed, they sounded great whilst I was still in the practice but I'd realise within a short while of leaving that they weren't quite right - meaning I'd have to stick with the less-than-perfect hearing setup until I could get another appointment. Being remote, I can test out the updates in an environment where I am often (i.e. my home) and can get quicker feedback on whether the update is OK or not - within a few minutes I can tell whether I can hear my own TV well enough, whether the dog barking it too loud, or if I can hear the doorbell. Restart the remote assist session and fine-tune based on your feedback without having to wait for another appointment.

To me, that seems better than a face-to-face appointment for quick and more accurate fine-tuning.
Some Technical Hurdles
The remote assist session relies on the patient have a smartphone and at least basic understanding of how to use it. With more people becoming tech-savvy these days I don't see it as a major problem - if the patient themselves can't work an iPhone then they'd hopefully have a friend or family member on hand to help them.

The tech knowledge needed is minimal. I had to uninstall and re-install the Smart 3D app, restart the phone and I had to disable and re-enable Bluetooth to get things working. That was mostly due to my App being out of date, I'd imagine, for the majority of people, that they'd simply have to click the Smart 3D App to get things started and that would be it.
In Summary
Remote Assist is a great tool and will help people get audiology support quicker and easier than before. A few things to keep in mind:
Professionals should make sure their face is well lit and close to the screen so patients can lipread.
Both patient and professional should have a decent Internet connection for best-quality video and audio.
The technical knowledge required by the patient is minimal and not a barrier to use but it would be much easier for the patient to know what is expected of them ahead of time, which would give them time to install the Smart 3D etc.

Pictures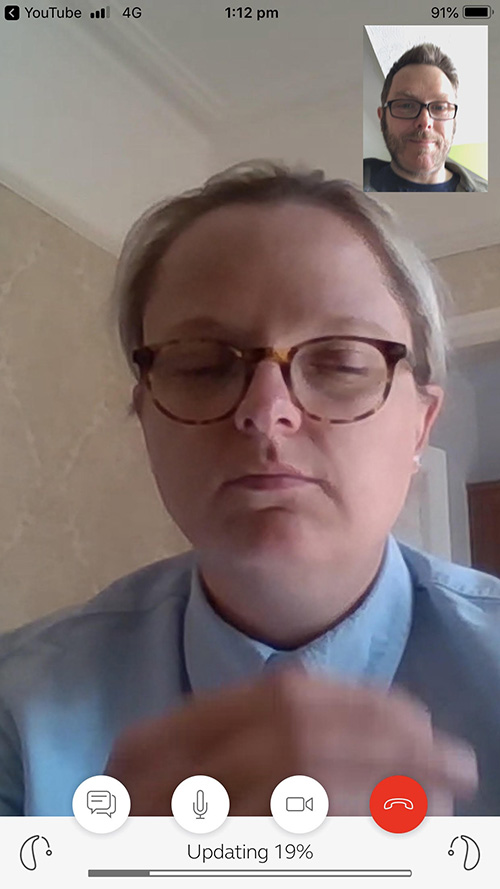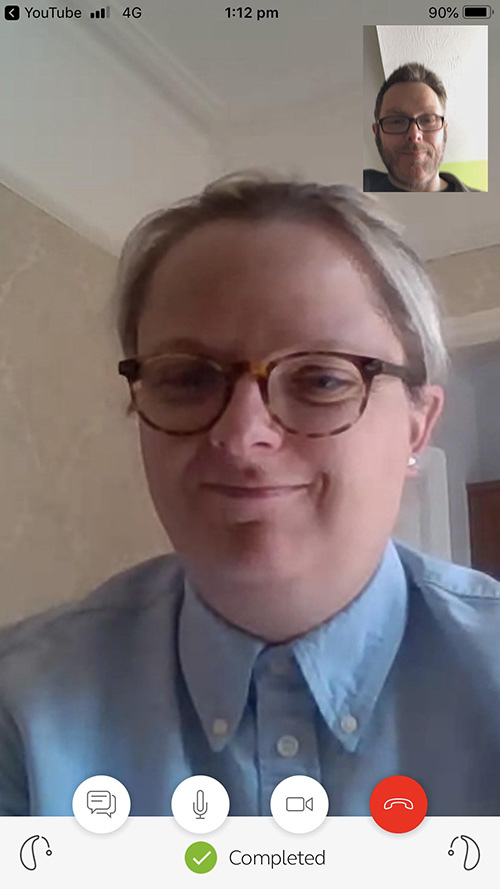 Once you are happy with the updates, your hearing care provider saves them to your aids, this took about 20 seconds.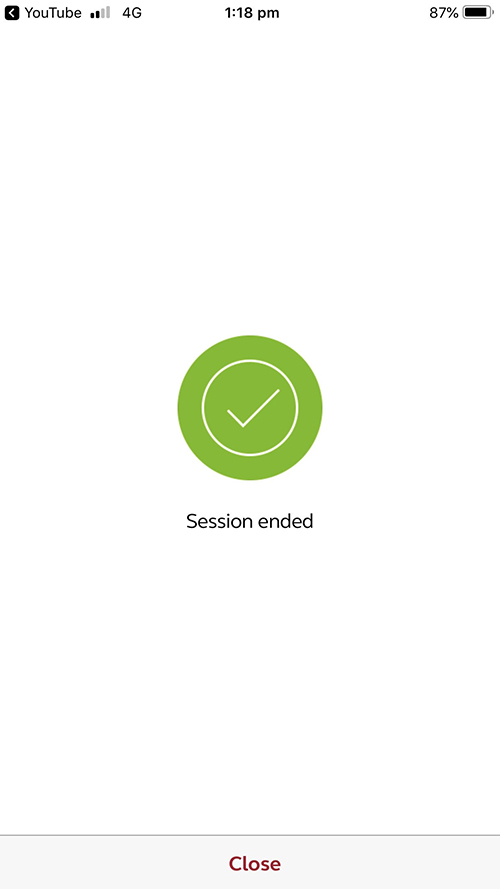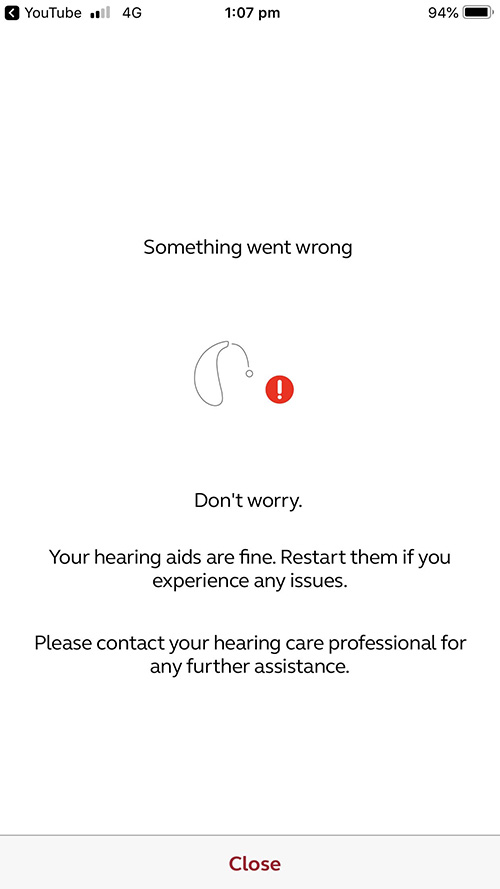 After everything is done you'll hopefully see the screenshot on the left. You might see the right-hand side if you have a bad internet connection and you lose contact, but your hearing aids are not affected.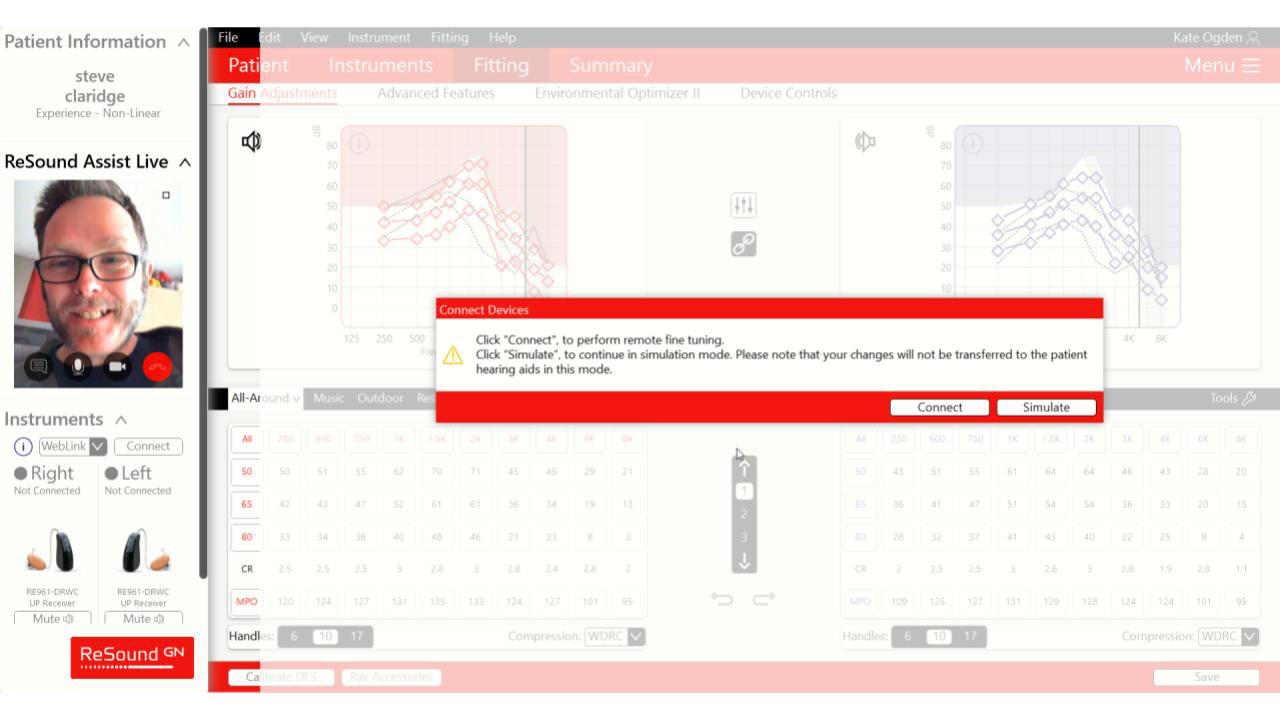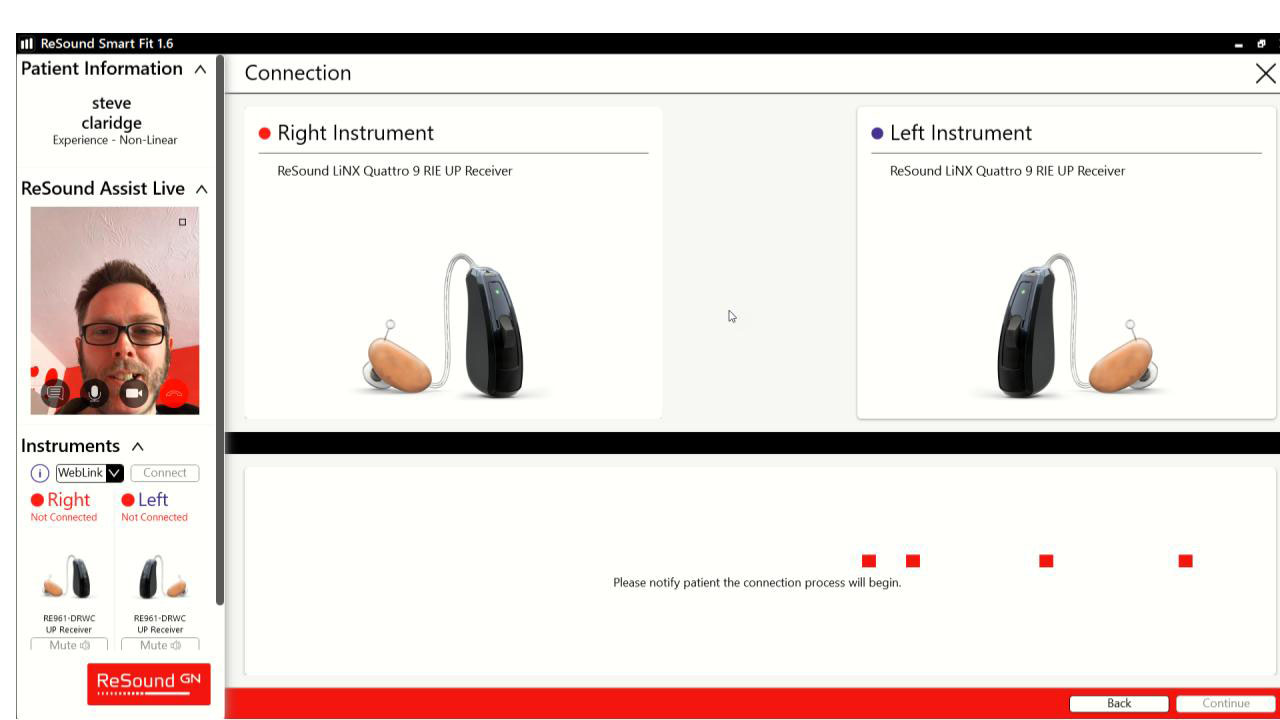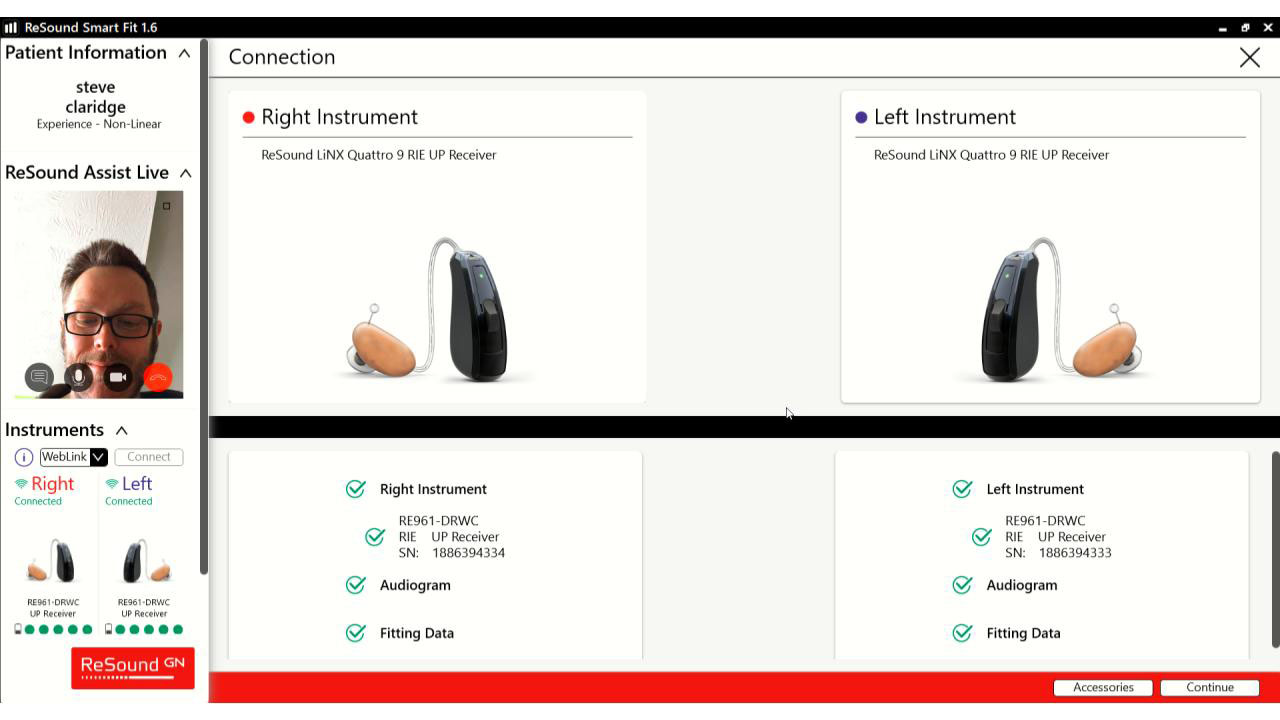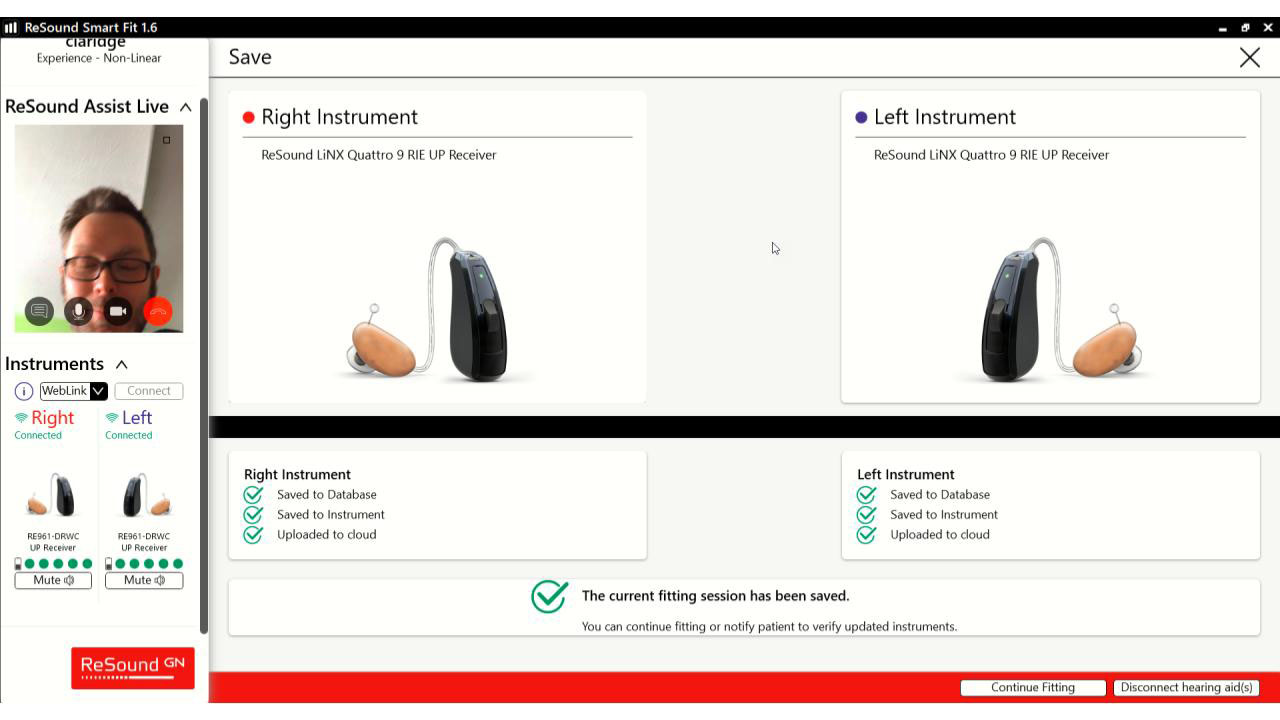 This is what your hearing care provider sees, they have all the usual in-practice functionality at their fingertips so they can give you the same service as if you were face-to-face.