Excellent Hearing Aids, Impressive Sound Quality and I Love The Rechargeability
I have never worn a Phonak hearing aid before, odd but true. So when Phonak offered the opportunity to try the new Marvel, I was intrigued. I mean the Marvel is a pretty sexy hearing aid, good looks, rechargeability, notable Phonak features and direct connection to a considerable amount of equipment. I mean what's not to love? As I said, never tried their stuff, so I was interested in how it would sound and work out for me. Let's talk about the Phonak Audeo Marvel.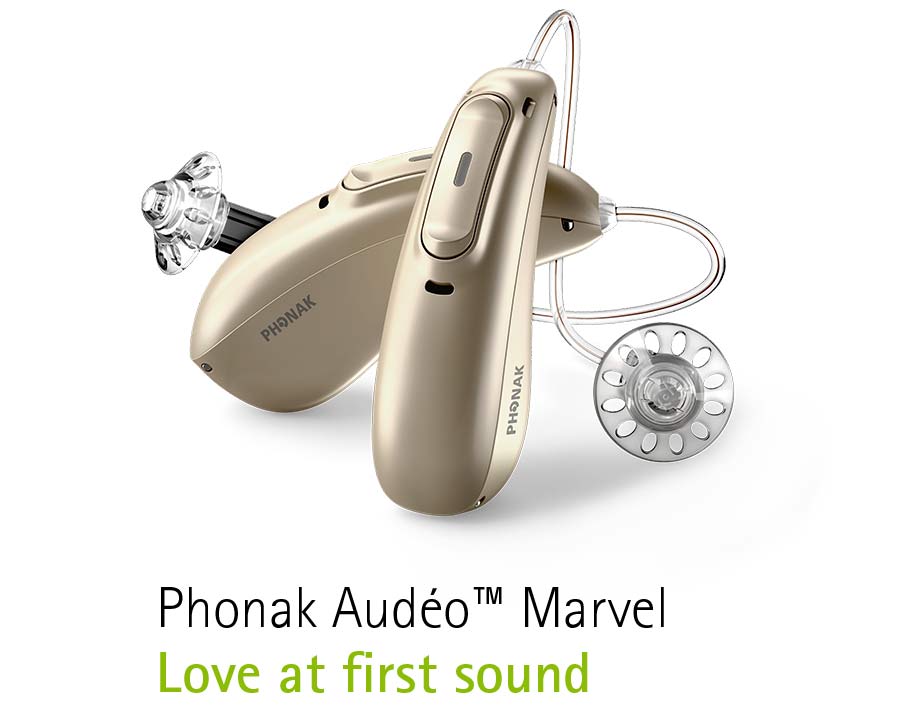 Where's the damned Made For iPhone?
Their investors have scourged Phonak in recent years because of the lack of a Made For iPhone solution. So the introduction of the Made For Any Phone Audeo B-Direct was welcome. However, it was not received with overwhelming excitement.
The lack of stereo streaming from mobile phones ensured that the devices were not the dramatic success that many thought they would be. However, they were still fascinating devices offering a glimpse of both the possibilities and the route Phonak were taking. I am glad they stuck the course, because the Marvel, really is a marvel.
Rechargeable for convenience
I am using the Marvel rechargeable devices, and I was a little worried about battery life on the devices. Phonak have chosen a route to the connection that offers enormous possibilities but is quite a power hungry solution. I would say I am a power user; I like to stream much audio from my phone. I would listen to at least five hours of streamed audio a day, just from my phone. I was pleasantly surprised, during my trial period I never ran out of battery life.
Obviously, if you stream via Bluetooth a lot (for phone calls or music), then the battery does drain a bit quicker, but I still managed to get a whole day of use out of them, worry-free. There is an addendum here, I don't watch television, so I never tested the battery life with TV streaming in mind. I will do so in the future and write up a separate article on it. The case the devices come in charges the hearing aids. However, unlike some of the other brands, the case does not hold extra charges, I think this is a mistake.
The chargers
I received my Marvels in the mini charging case. It is a pretty nice case, reminiscent of a clamshell. There is another larger case available which also acts a dryer unit. The larger case can be used with an add-on power pack that will allow charging on the go. I like the mini-charger, but if I were you, I would go for the larger charger and the power pack. It will give you far more versatility and peace of mind.
Recharging them aids
Recharging the devices could not be more straightforward: You take your hearing aids out of your ears and place them into the charging box, that's it. No grief, no hassle, they simply slip into the slots. You will see a little green light flashing on each aid to indicate that it is charging. Taking them out has a knack though, do not try to pull them straight out! You lean them back toward the front of the case then lift them out. If you don't, you will break your fingers trying to get them out.
Bluetooth streaming for phone calls, music and TV
Before I speak about the daily use of the device I want to speak about the much vaunted Bluetooth connection. I have used the Marvels with an iPhone 7, I have used them with a Samsung Galaxy S8, I have used them with an iPad and a Galaxy Tab, I have even used them with my laptop. So I can honestly say I have put them through their paces.
The connection to all of the devices was robust and pretty stable. While the literature talks about 30 feet, in the real world that is only thirty feet line of sight, when you add walls and floors, things get a little quirky. For normal use, the Marvel performed admirably well. I had uninterrupted audio streaming within normal parameters, and while I did have one incidence of issues, that is markedly less than any other Bluetooth enabled hearing aids I have ever tried.
Problems with Bluetooth are common, it isn't a hearing aid brand issue, it's just damned Bluetooth! The Marvel, however, seems to suffer from fewer issues which is interesting. As I said, I had one incident where the aids were connected but stubbornly refused to stream audio. As is the case whenever this happens I simply turned the Bluetooth off on my phone and then turned it on again. Problem solved. I didn't suffer any of the usual issues of drop out.
A quick addition here, one of my professional colleagues pointed out that there are some documented issues with the connection between the Marvels and the iPhone X. For some reason, there is a lot of dropouts during phone calls.
There is one other thing, but it isn't an issue as such. When you are using your phone, switching through apps or such like, there is a moment of silence in your hearing aids. It is the phone momentarily grabbing the Bluetooth connection. It isn't a problem as such, it just happens.
The streaming sound
Phonak has made quite a lot of their new automatic streaming programmes, one for streaming speech and the other for streaming music. They both seem to work exceptionally well. Initially, I used open tips on the Marvel devices, even with open tips, the sound was pretty good. My audiobooks were clear and audible. The music I listened to was pretty full, perhaps a bit tinny, but not too bad. I changed the tips to the comfort tips that I normally use to get a clearer idea of the comparison.
The difference was amazing, it made the sound fuller and warmer giving the bass tones of music the extra boost they needed for enjoyment. Again, that is not to say that the sound with traditional open tips was not acceptable, it was. Unfortunately, the comfort tips are not made by Phonak and I was a little concerned that they may slide off the receiver tip and end up stuck in my ear canals. So I stopped using them. I only bring it up so that I am clear about the sound quality.
Taking phone calls
The Marvel is extraordinary because it provides completely hands-free phone calls. In fact, it is the only hearing device to do so with stereo sound. The Marvel handles phone calls very well, the phone rings in your ear and you simply press the button on the hearing aid to answer the call. The call audio was excellent at all times. There was occasional difficulty with the caller hearing me from time to time. Especially in noisier situations and occasionally in windier situations. Overall though, I was impressed with the phone experience.
Like I said, the phone call experience was excellent, especially when I used the speech to text app on my smartphone. The app works very well, transcribing the call so that you have the very best opportunity to understand what is being said by your phone call companion. It really is a fantastic use of technology, while I heard quite well on phone calls, having the text transcription to validate what I thought I heard was really good. This is a new concept, and it is brilliant thinking by the Phonak design team. I mean joined up thinking. You don't have to hold the phone to make calls, so what can we do with it???? Whoever came up with this is a rock star or rock stars if it was a team, and I want them to know it.
The other app capabilities
There are in-depth remote fine-tuning capabilities with the Marvel and an excellent way to record your experiences on a day to day basis. I didn't try them out. I thought it would be a little trite talking to myself as I fine-tuned remotely! Having said that, I think this is an interesting feature that offers real versatility of experience to users.
In the next article, I will discuss my daily listening experiences with the Marvel hearing aids. See you then