Published
Let's talk rechargeable hearing aids, what are the types and their pros and cons?
Rechargeable hearing aids have surged in popularity in the last six months. The introduction of the latest wave of the devices ensured that Professionals were more confident in providing them and consumers were more confident about buying them. Some people have warned people off rechargeable hearing aids for different reasons, I think they are exceptionally beneficial, but there are pros and cons, let's talk about the types and what they have to offer.
You can take a look at the full rundown of the latest rechargeable hearing aids available here.
Rechargeable hearing aids have been around for a long time, however, there were never very popular because of power output. ZPower has coined the phrase one-charge-per-day standard, and it is a pretty good phrase (I wish I came up with it). In essence, the traditional rechargeable hearing aids did not meet the one-charge-per-day-standard. That only got worse when hearing aids became wireless and more users were streaming audio.
A New Generation of Rechargeable!
A new generation of rechargeable battery technologies has arrived and it promises to make life easier for consumers. In point of fact, two new rechargeable hearing aid technologies arrived on the market in 2016, Lithium-ion and Silver-Zinc both of these technologies offer something different with different pros and cons, but the one thing they both offer is, the one-charge-per-day-standard.
Lithium-ion Rechargeable hearing aids
As of updating this piece four hearing aid brands offer Lithium-ion rechargeable hearing aids. Phonak offers the biggest range of rechargeable hearing aids including a new Kids rechargeable hearing aid, the new Naida Belong rechargeable hearing aids, the Receiver in Canal hearing aid (Audeo B-R) and a Behind The Ear hearing aid (Bolero B PR). Signia offer a Receiver in Canal option and a BTE option. Starkey introduced their own Lithium-ion powered rechargeable hearing aid in February 2018. Resound introduced the LiNX Quattro which is powered by a Lithium-ion cell in late 2018. The rest of the brands are expected to follow in 2019.
The Lithium-ion devices from the different hearing aid brands have one thing in common. They are sealed integrated power pack systems. These offer pros for safety and cons for the use case. Let me explain, Lithium-ion can be a fire risk if the battery is damaged, sealing the battery in the body of the hearing aid means that it is protected from mishandling.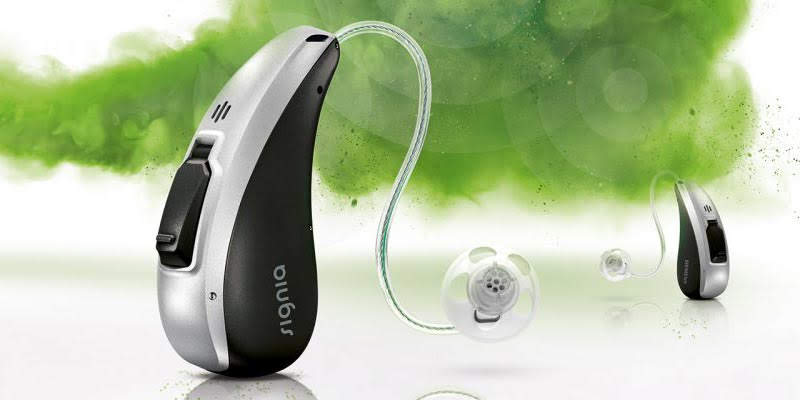 However, sealing it in the case also means that it can not be replaced by the user. Lithium-ion can be expected to deliver for between four and five years, so that means the battery pack will have to be replaced after four or five years because it will not be delivering what it should. To do this, the hearing aids will have to be sent back to the factory and it will also have a cost attached. One addendum here, Signia's power pack can, in fact, be replaced by your hearing aid provider in their office. From what I know, Phonak at least has said that they will replace battery packs in the future as a normal repair, which means it won't be a ridiculous cost.
Update 20/06/2018: Phonak has undertaken accelerated testing with the Lithium-ion solutions. It appears that even after six years of use and recharging, there will still be enough power capacity to ensure a full day's use of the hearing aid. Their findings have given more confidence to professionals when recommending these solutions. It means that you will get six or more years of use without having to change the battery pack.
In most cases, many people would be changing their hearing aids on a five to six-year cycle. However, even if there is some reason that a user can't change their devices, it means that having to consider paying for the swapping out of the battery pack is only something that will happen after six or seven years.
The Cons of Lithium-Ion Rechargeable Hearing Aids
Safety: Lithium-ion is a poison, and hearing aids are small enough to swallow, presenting a hazard to children and pets. Lithium-ion has the potential to go on fire if damaged badly enough.
Sealed Case: The fire hazard of the tech dictates that the lithium-ion battery is integrated into a sealed case. If it runs out of power while still in use, the hearing aid cannot run on a normal disposable battery but must be taken out of commission while it recharges. And when a lithium-ion battery reaches the end of its life, it can't be replaced by the user but must be swapped out by the manufacturer.
Power Limitations: If you stream a lot of audio (from an MP3 player or mobile phone, etc.), there's a possibility that the batteries may not last the full 24-hour day. In fact, Phonak seem to think that if you stream up to about five hours, the aids will last 14 to 16 hours. This shouldn't affect most people though since 12-16 hours would be a typical day of hearing aid use.
Larger Footprint: The footprint of Lithium-Ion is bigger than the other option which means bigger hearing aids.
The Pros of Lithium-Ion Rechargeable Hearing Aids
No more fiddly battery changes: The technology ensures that you no longer have to worry about the expense of disposable hearing aid batteries, nor do you have to worry about changing them.
24 hours of continuous use: The technology has finally reached the one-charge-per-day standard. You should be able to get up to 24 hours use with up to 5 hours of streaming.
Easy charging: Simply drop it in your charger, no hassle.
Silver-Zinc Systems
The primary producer of Silver-Zinc rechargeable hearing aid systems is ZPower. Originally ZPower offered a retrofit system which consisted of individually designed battery compartments and chargers for many popular hearing aid models. This allowed hearing aid users to change their current products to rechargeable hearing aids. However, in partnership with several hearing aid brands, there are now several Silver-Zinc powered rechargeable hearing aid options. Like the lithium-ion systems, they provide power for a day of use.
As of writing this piece, the two hearing aid brands offering Silver-Zinc rechargeable hearing aids are Unitron with their Moxi Fit R and Starkey with their Muse Micro RIC 312t R. Unitron has done something interesting though, they have made their rechargeable hearing aid system backwards compatible. If you currently own a Moxi Fit, you can buy the kit and make it rechargeable.
Update 20/06/2018: Many more hearing aid brands have introduced rechargeables with the ZPower system, including Widex, Bernafon and Oticon.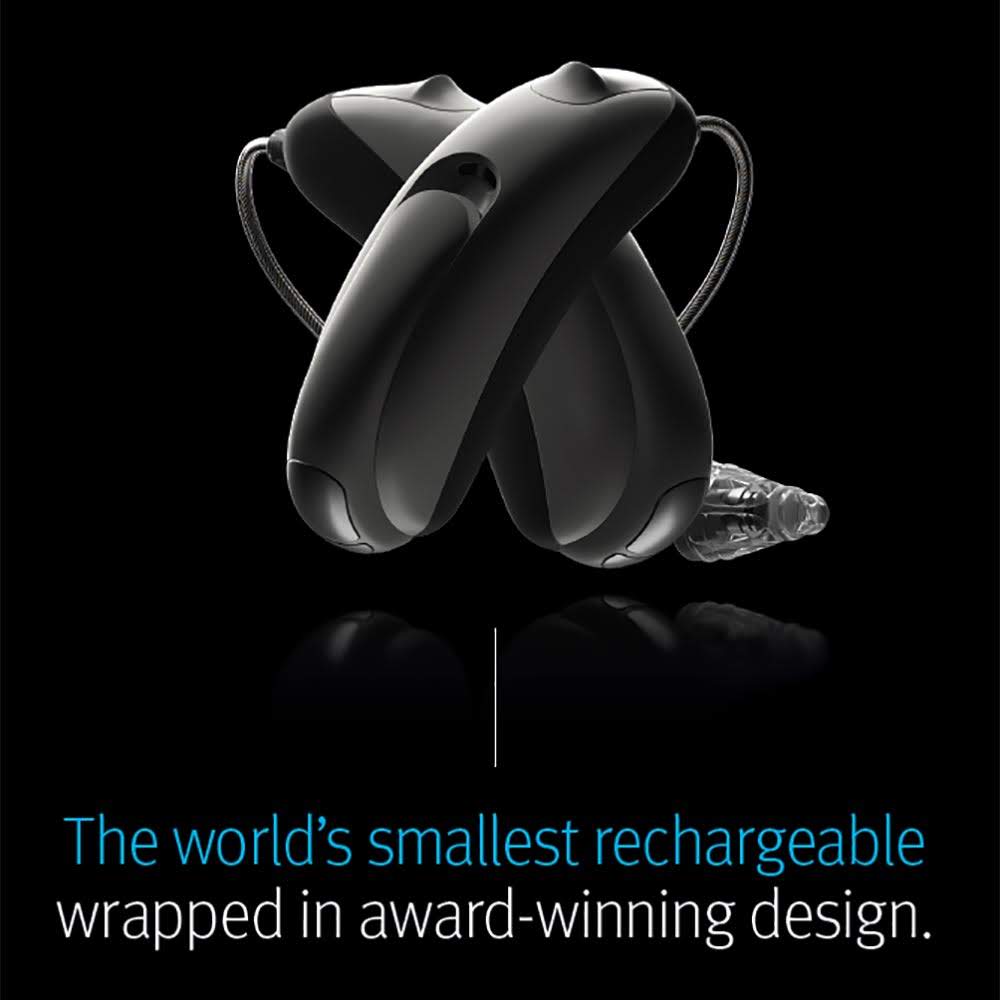 These systems are not integrated and sealed into the product, in fact, these systems are a little more forgiving than the Lithium-ion systems. If for some reason you don't get to charge your hearing aid, you can simply slip in a disposable battery. Silver-Zinc is also more stable than Lithium-ion, it won't explode into flame when damaged.
The Cons of Silver-Zinc Rechargeable Hearing Aids
Once a Year Replacement: Silver-Zinc batteries need to be replaced once a year. This represents a cost to you, however, they are cheap enough so the cost over four or five years probably balances out with the repair cost of changing a Lithium-Ion power pack.
Power Limitations: This is less of a problem with Silver-Zinc technology, because they are much more power dense. However, if you stream a lot of audio (from an MP3 player or mobile phone, etc.), there's a possibility that the batteries may not last the full 24-hour day.
The Pros of Silver-Zinc Rechargeable Hearing Aids
No more fiddly battery changes: The technology ensures that you no longer have to worry about the expense of disposable hearing aid batteries, nor do you have to worry about changing them except for once a year.
24 hours continuous use: This technology is also one-charge-per-day standard. You should be able to get up to 24 hours use with up to 5 hours streaming.
Flexibility: Because they are removable, the rechargeable batteries can be easily replaced by standard disposable hearing aid batteries in the event of an emergency. The hearing aids can run on the disposables until they can be recharged at night. It also means that when it comes time to replace them, you can do it at home.
Safety: Silver-zinc is non-flammable, non-toxic and 100% recyclable.
Smaller footprint: Higher energy density means a silver zinc battery can come in a smaller package than comparable lithium-ion rechargeable batteries. This simply means smaller hearing aids.
Backwards Compatible: The technology is backwards compatible in at least one case and it can be added as an aftermarket system.
Update January 2019: I think the general feeling within the industry is that Lithium-ion cells are more reliable than the ZPower option. It is unfortunate but many of the Z-Power systems have developed problems and it has been both frustrating for the users and professionals alike. In truth, I like the Z-Power system a lot, but the problems seem to have over-ruled what is excellent tech.
There is a lot to think about when it comes to rechargeable hearing aids, not least what type is right for you. Each system has its pros and cons, and I don't think you should be afraid of them. As always, we just think you should have all the knowledge you need to make an educated decision.
If you like what you see, share it so others can benefit
Find An Independent Hearing Aid Centre in Your Area
Arrange a consultation with a trusted Independent hearing healthcare professional in your area