I have been quiet to non-existent lately, we have had a series of family issues befall us over the last few months. I have found myself without the energy or mental capacity to write anything here. I was rather surprised to find that I am not nearly as mentally robust as I thought I was. In the last month or so in particular it has been much easier for me to retreat into books. It seems that dealing with the thoughts and words of others, is preferable to dealing with my own. Anyway, I won't say that the situation has changed, but I do realise that it is important for me to get off my arse and write here, at least as much as I can force myself to. Since I have been missing in action, quite a lot has happened, so let's take a look at it. I will give you the outline here on this article and maybe look at doing a couple of stand-alone articles to cover what needs to be covered.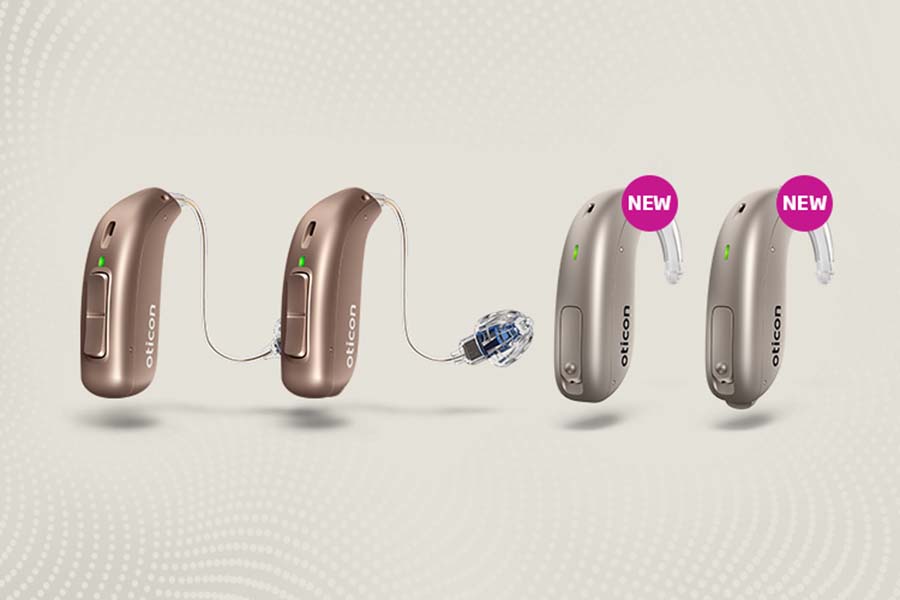 So what's happened?
Quite a lot actually, Oticon, ReSound and Phonak have introduced new models on existing ranges, Oticon has also introduced two new platforms based on their Polaris chips. A slew of hearing aid manufacturers have brought hands-free calls to their aids when paired with an iPhone and finally, I have received Jabra Enhance Plus, HelloGo devices from Sonova and Signia Ax devices in my mailbag.
Oticon Expands More Range and Introduces Two New Polaris Platforms
As you can see from the photo above, Oticon has expanded the More range with two new BTE (Behind The Ear) devices. The two new miniBTEs offer Oticon More functionality and the option of rechargeable or non-rechargeable styles. The miniBTE R (Rechargeable) uses lithium-ion batteries for a full day of battery life. The miniBTE T (Telecoil) uses disposable zinc-air batteries. The new devices ensure that the More platform is suitable for... well more (excuse the pun) people
Oticon's new Zircon platform is aimed toward the budget-conscious buyer, it is also powered by the Polaris platform. It brings the open sound experience to the essential hearing aid category. It offers some of the headline features from More including the OpenSound Navigator™, Speech Guard™ and SuperShield.
They say "this essential hearing aid builds on Oticon's BrainHearing philosophy to provide a superb listening experience for people with hearing loss, even in noisy environments". The Zircon offers a range of connectivity options and a choice of rechargeable and non-rechargeable styles, performance levels and fitting ranges.
Finally, the new Play-PX is focused on the pediatric market. It brings the wonders and functionality of More to Kiddies. Play-PX and Zircon are available in the same styles as the More range.
Phonak Introduce Virto Paradise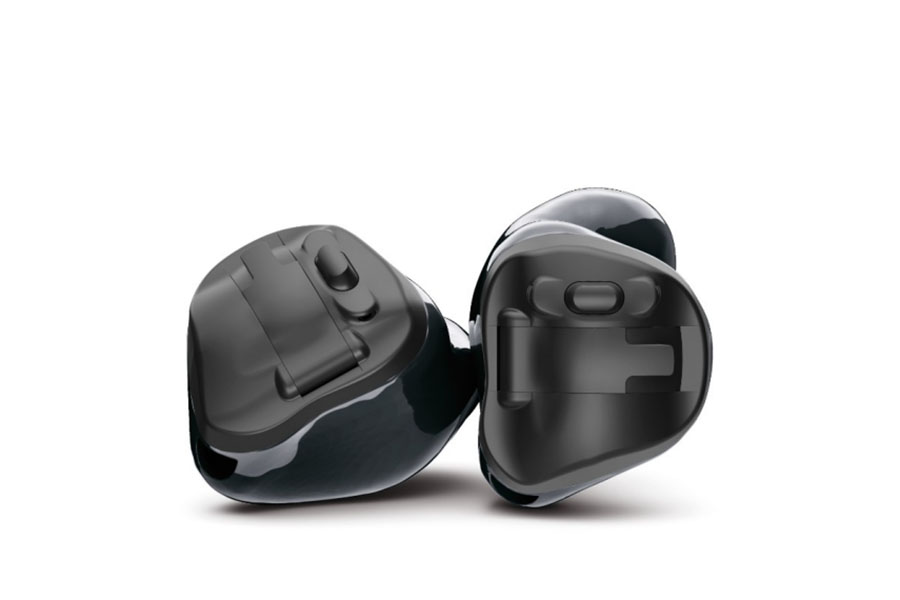 Phonak has introduced their custom Paradise aids which complete the Paradise range of devices. The only two styles mentioned are the 312 which you can see above which offers full connectivity and the Paradise Titanium which offers no connectivity, but no one will ever see it! I have no idea why that would fucking bother you, but hey obviously it does or they wouldn't sell them. There really isn't much to say about them that hasn't already been said about Paradise. The 312 is a Made For All Phone device and also offers the Roger Direct system. No tap system on it though, which is ironic, because it is probably the one device that the damned tap system would be ideal for.
ReSound BTEs

I announced the introduction of the new BTEs last month in an article here. I just mentioned it again because the devices are now actually available.
Hands-Free Calls Become Available
There was a slew of announcements that we have covered on the pages of Know in relation to Hands-Free calls being added by a lot of hearing aid manufacturers. Despite some of the announcements being quite a while ago, the functionality has just become available across many of those brands. The new Hands-free functionality is only available with some iPhones running the latest IOS update. It seems that the functionality is now available from all of the manufacturers more or less. Haven't used it myself, because I don't care. I will use it and let you know what I find.
New Toys
As I said, I received a slew of new toys over the last couple of months. I have been relatively impressed with them all and I will begin to write up some articles in relation to my thoughts. I was really impressed with the Jabra Enhance Plus devices, quite a lot of power and longevity in a really small package.
A couple of observations
Just a couple of observations around the latest news. The first one is about the manufacturers' launch schedule. It seems that every manufacturer has now embraced the drip strategy, feeding the new platform to the market a bit at a time. It's downright fucking irritating, it means that we get a new platform piecemeal and it's a little harder to serve our customers.
I think Oticon is the absolute worst for this, they introduced just one aid on the More platform initially, one hearing aid style! Hell, if you are in the market for an Oticon custom hearing aid, the only technology available is over five years old based on the original Opn platform. Up to the introduction of the Virto Paradise, if you wanted a Phonak custom aid, it was a Marvel aid, a platform that was introduced in 2018.
ReSound isn't much better, they have RICs and BTEs available on the One range but no customs. I think in the recent past, Widex has been the only manufacturer to launch a full device range on a new platform. I understand the strategic concept behind staggered launches, it keeps the platform at the forefront of everyone's mind for an extended period of time. However, it means that some customers have to wait a lot longer than they would like for a device that they are comfortable with.
The second observation is about the functionality of the Hands-Free calls. Up to now, Sonova products are the only ones to offer the feature. While that's not the unique selling point of the devices by any means, I do know some customers have made the purchase decision based on it during a comparison. Marvel and Paradise have been runaway successes for Sonova, it will be interesting to see if this has an impact on their market share.
Anyway, I will look at organising a few articles around the new products I have been trying and will get them up whenever I can. Please like us on Facebook by clicking the button below to keep up with our latest utterances. Alternatively, if you don't like Facebook, sign up for the newsletter below. It is important to remember; a hearing aid isn't correctly fitted unless they do Real Ear Measurement.