As we reported earlier, Resound has announced the launch of a new premium plus hearing aid called the LiNX Quattro. I have been delving through the press release and the details on their website. While there are some pretty clear headlines that are discussed, many of the details have been left purposely vague. I imagine most of those details will be fleshed out over the next few weeks as they are launched to professionals and then to consumers. I wanted to outline clearly what we know, and take a guess at what we don't, educated guesses in fairness. Hey, if I am wrong, you get to laugh at me, how bad is that? However, from what I am seeing, this hearing aid has pretty much the best of all worlds.
find your local Quattro provider

find your local Quattro provider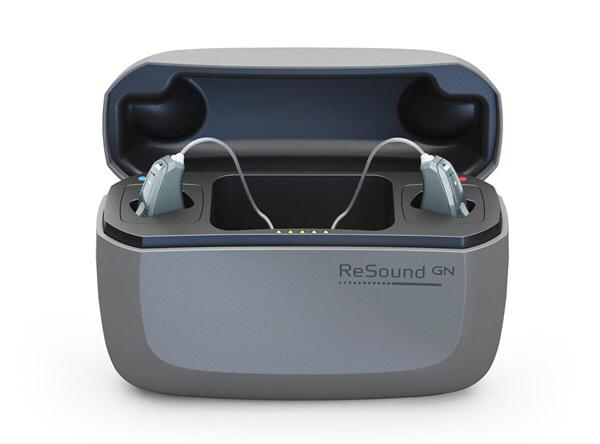 What we know
This is what we know so far:
The devices will only be available in one new technology level

The devices are Receiver In Canal devices

The devices are Bluetooth hearing aids

The devices use a brand new chip platform

The chip has 100% faster processing than 3D

The chip has 100% additional memory over the 3D

Resound are using a new way of handling directionality inputs

They have introduced a redesigned wireless radio with extra signal strength

They have extended the bandwidth of the devices giving extra high-frequencies

They have increased their dynamic input range, calling it industry leading

The devices are available with a Lithium-ion

rechargeable battery pack and without

The rechargeable hearing device will deliver 24 hours of use with 50% streaming on a three-hour charge

The Lithium-ion devices will deliver 30 hours of use without streaming on a three-hour charge
Pretty Discreet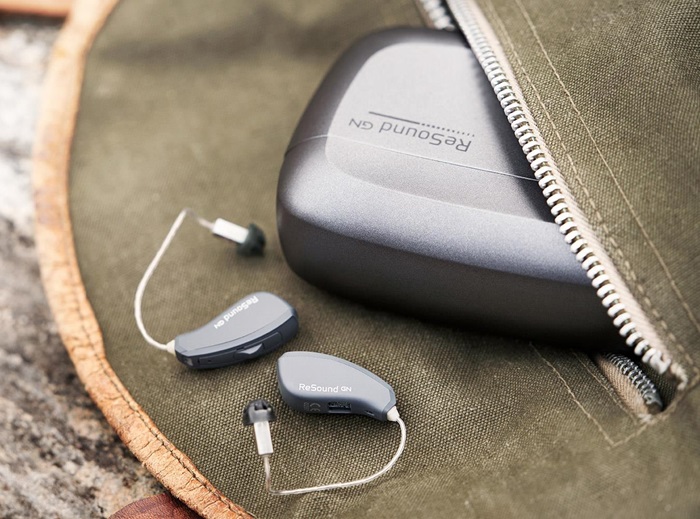 Let's take a closer look and give some observations on what we have seen so far. Firstly, the rechargeable hearing aids look pretty discreet. The Lithium-ion version is based on the LT-61 device which is Resound's smallest RIC hearing device. The devices look very like the normal LT-61 but the bottom seems to flair a little, I would assume to hold the Lithium-ion powerpack. What is interesting is that there are no visible charging connections, so the devices are either using some sort of wireless charging or induction charging system. They are also available in an LT-62 version which is the slightly larger RIC hearing aid from Resound. This version uses normal hearing aid batteries, I have a feeling they probably won't sell a lot of them.
The charger for the rechargeable device is both a desktop charger and a carry case for the devices. The charger holds its own charge and can be used for recharging the hearing aids on the go. The charger seems to be an intelligent charger with an auto off and on function for the hearing aids. It also offers clearly visible LEDs that allow you q quick understanding of the charge state of the hearing aids. The charger seems very well designed and in the promo shots, it looks pretty sturdy.
A New Technology Level
The LiNX Quattro will be available in a new technology level that Resound are introducing called Premium Plus. They will initially be released in the two RIC form factors and they will sit above the LiNX 3D which they will continue to offer. There is no word at this stage if Resound will introduce more form factors or how they envision the expansion of the Quattro range.
A New Chipset
Resound say they are using a new chipset and give some pretty good stats on the improvements over and above the LiNX 3D. Both myself and Steve wear the LiNX 3D 9 regularly and the devices are excellent. SO I am interested to see what the new chipset offers over and above the existing device. One of the things they seem to have used it for is a new type of directionality, on top of that they have saved power consumption by 20% on the LiNX 3D.
They have also used it to increase the dynamic range of the devices, this allows a more normal use of sound inputs. It means that louder sounds won't become distorted because they won't be compressed on input. Without getting too technical, it will mean louder sounds are more normal and be more pleasant.
A New Directionality System
They haven't included many details on this, just a teaser, from what they are saying though, it seems that how they handle speech in their directionality rules may well have changed. How much so, remains to be seen, but I have a feeling it is a radical change. I think they have given greater emphasis to speech from every direction and allowed their noise reduction to work between. It should deliver a more normal sense of sound in noisier environments.
Better Bluetooth Connection
The newly redesigned wireless radio should make the direct connectivity to iPhones and hopefully Android phones in the near future more stable. Resound already delivers a pretty stable connection, but any improvement here will be welcomed by me and all of the other people who end up on our knees in the back garden offering our firstborn to the Gods of Bluetooth when our phones stubbornly refuse to connect. With the bigger dynamic range and the wider frequency bandwidth, music should sound really good.
To be honest, this hearing aid seems to have pretty much the best of all worlds. While the features concepts are not necessarily groundbreaking, this is the only hearing aid that seems to do them all well in one device. Those are my observations so far, if I hear any more, I will, of course, update the post. When the hearing aids are formally launched, we will give you all a full rundown of what we find out.
If you like what you see, share it so others can benefit