Signia announced the introduction of a new Styletto model today, the Styletto Connect will be a Rechargeable Bluetooth enabled hearing aid and it will be released this month. The original Styletto suffered a little from the lack of connectivity, however, it was still well received. I tried it and I liked it a lot and you can read my original thoughts in the article "My Day To Day Experience of The Signia Styletto". As I said, I liked it a lot but for me, the lack of connectivity was a deal breaker. The new model fixes that so I will be taking a strong look at them again pretty soon. Let's talk about the press release.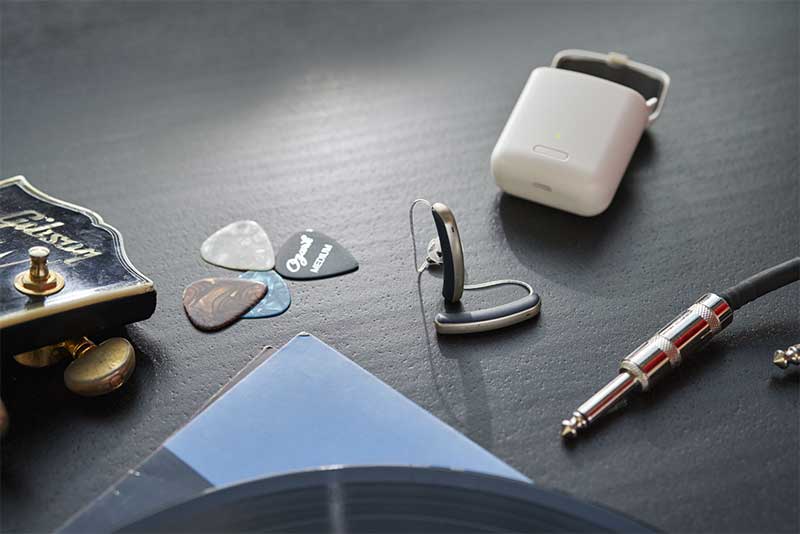 Rechargeable Bluetooth Hearing Aids
As before, the new Styletto is a rechargeable hearing aid, but as I said, for the first time, it is also a Bluetooth hearing aid. The new Styletto Connect comes with the same type of charger unit as the original, but according to the Press Release it will now hold four days of extra charge rather than the original three. I really liked the charger case, it is small, discreet and easy to slip in a pocket. They say in the press release that it is three times smaller and half the weight of other charging cases and I probably can't disagree.
Battery Life With Streaming
Sivantos says that you will get 16 hours worth of battery life from one charge with 5 hours of streaming. That is pretty much a full day for most people, however, they point out that a simple 30-minute fast charge adds 5 hours of extra use or 3 hours of streaming.
Own Voice Processing
The Styletto Connect is based on the Nx platform and it offers the Own Voice Processing feature that I was so impressed with. In essence, it is a pretty astounding feature that removes the user's voice from the signal. This completely reduces the sense of occlusion and makes the hearing aids much easier to wear for first-time users.
Telecare
Because the Styletto Connect is Bluetooth enabled, it will also offer access to Signia's remote care system. The Signia Telecare system is pretty good and like the others, it offers a new way for people to engage with their hearing care professional and have fine-tuning and aftercare undertaken.
Three Levels of Technology
The Styletto Connect will be offered in the normal 3 levels of technology from Signia, that will be a 7, 5 and finally 3.
The original Styletto was designed with the concept of changing the feel of hearing aids. They were designed to make hearing aids attractive to users. I always felt that the style was most attractive and most suitable for young users. However, the lack of connectivity and access to remote care hobbled them quite a bit. After all, younger users are all about connectivity and they're more than happy to use telecare.
The new Styletto Connect solves all of those issues and I think they will be a very popular choice. Like us on Facebook by clicking the button below to keep up to date with our latest ramblings. You can read the full press release below.
Sivantos launches Styletto Connect: an ultra-slim hearing aid with connectivity and portable charging

New Signia Styletto Connect combines unique SLIM-RIC form factor with Bluetooth® connectivity
Stylish, high-tech device complements Signia as the world's largest Li-ion rechargeable hearing aid portfolio
Styletto Connect provides up to four days of wireless charging-on-the-go


Hearing aid technology leader Sivantos today unveiled its latest innovation: Styletto Connect from the brand Signia. Built upon Signia's revolutionary SLIM-RIC form factor and Signia Nx technology platform, Styletto Connect combines exceptional design with high-quality connectivity to the wearer's smartphone to stream calls, music and TV via Bluetooth, plus fully portable rechargeability.
Styletto Connect comes with a pocket-sized portable charging case that powers a full day's worth of wearing[1] with five hours of streaming on a single charge. A 30-minute fast charge adds five hours of use, or three hours of streaming, for complete flexibility on the move. Fully loaded, the charging case delivers four days of user autonomy, free from plugs or cables – ideal for a weekend getaway or a business trip. Three times smaller and half the weight of other chargers with a built-in power cell, it is easy to fit in the wearer's pocket and carry with them.
At a time when more people develop hearing loss, but many remain reluctant to wear hearing aids, Styletto Connect was developed to offer a viable solution. It is a sleek, elegant device people can be proud towear, while providing the latest audiological technology for better hearing and speech understanding in any situation.
Styletto Connect is available in the performance levels 7, 5, and 3 and includes remote-control options via the Signia myControl app. The new hearing aid is IP 68 rated and available in three attractivecolor combinations: Black / Silver, Cosmic Blue / Rose Gold, and Snow White / Rose Gold.
Leading the way in rechargeability
Signia's latest premium hearing aid forms part of the world's largest Li-ion hearing aid portfolio, covering SLIM-RIC, RIC, BTE, and CROS devices[2] as well as all performance levels. This means that hearing care professionals (HCPs) can meet the needs of experienced hearing aid users as well as younger and first-time wearers looking for stylish all-around hearwear.
Eric Timm, CEO of Sivantos, said: "Sivantos aims to create hearing solutions that don't just help people hear better, but also help them live life to the fullest. Our Styletto Connect delivers on this goal by offering high-tech hearing aids that combine cutting-edge style and direct streaming with on-the-go charging. The Signia brand offers hearing care professionals the greatest choice of Li-ion rechargeable hearing aids so their patients can benefit from market-leading sound performance, stylish design, and the utmost convenience."
The entire Signia Li-ion portfolio is built on the acclaimed Signia Nx platform, which includes Ultra HD e2e with Narrow Directionality for superior speech understanding in noise. It also has the world's first Own Voice Processing (OVP™) feature for a more natural sounding own voice and higher user acceptance. All hearing aids offer Signia TeleCare™, the remote support and fine-tuning software that keeps HCPs connected to their clients. It enables them to offer advice and remote tuning via the wearer's myHearing™ smartphone app in between appointments to help ensure a smooth and successful trial period and continued customer loyalty.
For more information: https://pro.signiausa.com/styletto-connect/