The purchase of Sennheiser's consumer division by Sonova has just been announced. Sonova is the holding company that owns the hearing aid brands Phonak and Unitron among others and they are arguably, one of the two biggest hearing aid manufacturers. Sennheiser's consumer division is a big player in the personal audio world. According to the press release, Sonova will initially add headphones and soundbars under the Sennheiser name to its hearing care portfolio. According to Reuters, the company may also develop wearables devices with more advanced functions in the future. I think that it signals another step in the drive for wider recognition and early adoption of hearing technology that began with trailblazers such as NuHeara and Alango technologies among others. It could also signal opportunities for hearing care professionals to diversify their offerings if they are willing to grasp it.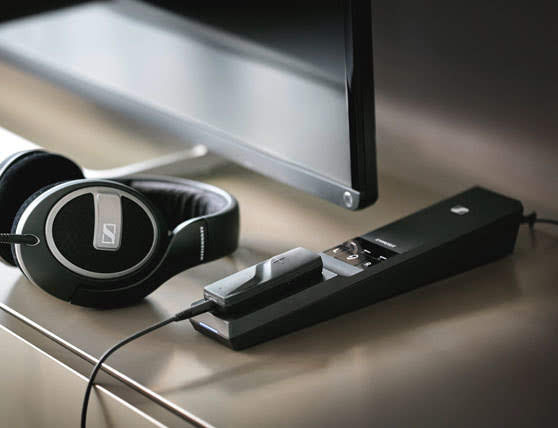 Sennheiser has a history of offering augmented audio solutions to consumers, in particular with its TV audio solutions such as their Flex 5000 wireless headset pictured above which we reviewed here on Know several years ago and their soundbars. They have signalled for quite a while that they wished to offload their consumer business to concentrate on their Pro-business centres and the sale to Sonova makes sense for both companies.
Audio Augmentation and Early Adoption
The world of personal audio augmentation has been growing exponentially in the last few years with the advent of so-called Hearables. Trailblazers like NuHeara and Alango technologies began to carve out a niche based on personalised audio that recognises hearing loss and adjusts for it.
The concept recognises that sometimes, hearing loss is not a four thousand dollar problem. For some people, their hearing loss is an occasional problem, so they are interested in an occasional solution. They are not ready, nor do they feel that a traditional hearing solution is right for them. I think there is greater recognition among the traditional hearing aid manufacturers of this concept.
For the hearing aid manufacturers, making cheaper hearing aids does not make sense. Self-fit hearing aids make a little more sense, but they are still hearing aids. It makes the most sense for them to look at non-traditional offerings that are attractive to the wider consumer market.
While Signia has signalled their intention with the introduction of the Active range, which we discussed recently, the other manufacturers haven't moved on it. It surprises me that ReSound hasn't moved forward, their experience with personal audio with the Jabra brand is second to none.
What's Next For Sonova and Sennheiser?
Initially, I think we will see a push of soundbars and wireless TV audio solutions into retail audiology. After the initial settling down period, expect a Sennheiser Hearable focused on personal hearing testing and audio augmentation with a cross over of hearing aid technology like 24-hour rechargeable battery, directional microphones, hearing aid amplification strategies and some decent noise reduction.
It will mean greater choice for people who aren't ready for traditional hearing aids and a wider choice of solutions. All in all, it's a good day for consumers and signals that a major player in the traditional hearing aid market is considering how to make their products more accessible. Like us on Facebook by clicking the button below to keep up with our latest utterances. Alternatively, if you don't like Facebook, sign up for the newsletter below. It is important to remember, a hearing aid isn't properly fitted unless they do Real Ear Measurement.