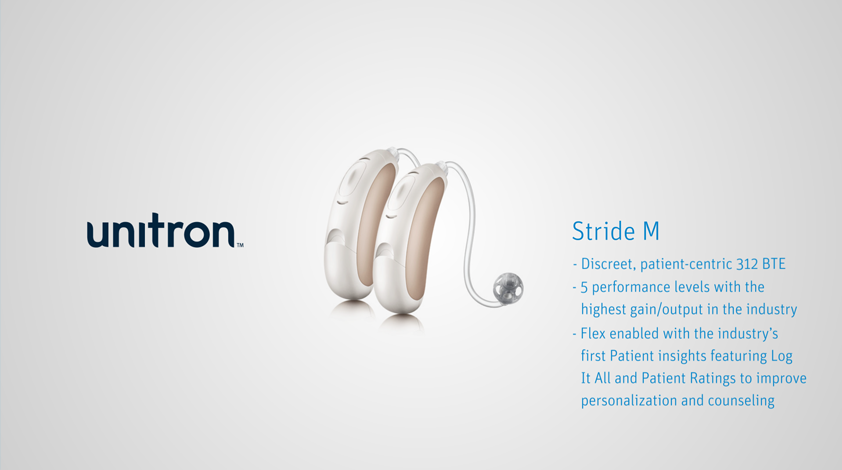 Unitron have just introduced a new Mini BTE that we think is really interesting. It is exceptionally functional with user controls, 312 battery and a telecoil, yet it is still as small and discreet as the average RIC device. They have said that they designed it so that people who are not suitable for RICs may still have the option to get a device that is similar in nature. I think that they may have actually introduced a RIC killer. Let's talk about the Stride M.
They recently launched the Stride M which is the newest and most discreet member of the Stride hearing aid family. The Stride hearing aid family is made up of traditional hearing aids, both BTEs (behind the ears) and ITEs (in the ears). The Stride is built on the North™ sound processing platform which is their latest platform. The Stride M 312 BTE is designed to provide quite powerful performance in a style that delivers comfort, discretion, and functionality.
Unitron
Stride M 312 BTE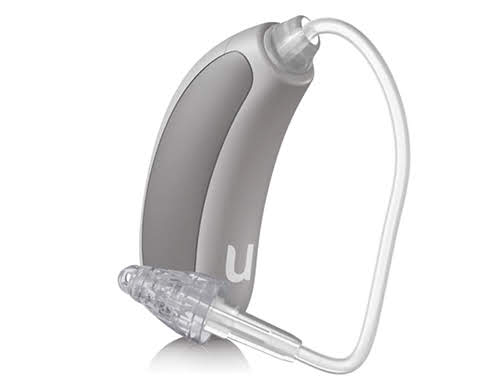 The 312 behind-the-ear (BTE) hearing instrument delivers a really discreet option in the Stride product family on the North platform which offers high-output power. The Stride M uses all of the North features, including SpeechZone 2, SoundNav and Sound Conductor, to provide a better hearing experience even in difficult sound environments. The Stride M has both user controls and a telecoil in a very small package.
The Stride M is a stylish and discreet BTE, in fact it could be easily confused with their Moxi Kiss or Moxi Fit RICs (Receiver in Canals). This device is Unitron's smallest BTE offering, however, it still manages to provide the highest output of any 312 BTE. It can be fitted using a traditional hook and tube or it can be fitted with thin tubes.
This versatility makes it suitable for patients with a wide range of hearing losses, or who, for a variety of reasons, can't wear a receiver-in-the-canal devices. It is this versatility that may well make it the most popular BTE that Unitron have ever delivered. It has all the benefits of a RIC device without any of the drawbacks.
Here is a quick run down of what the Stride M has to offer.
Size 312 Battery means it lasts even longer
As discreet as Most RIC devices
User controls which deliver real versatility of control
Can be fitted with thin tubes as well as traditional tubes and moulds.
There is a telecoil onboard, so it seems you can have everything
The Stride M delivers many benefits over a RIC device, thin tubes are easier to clean than receivers. They are also cheaper to replace than receiver wires. They certainly don't break down from wax or moisture ingression the way receivers do. All in all, it seems that the Stride M offers the best of both worlds, all the benefits of a RIC device without all the drawbacks.
If you are looking for advice on hearing aids, you should check out our e-book. It details types, pros and cons,technology levels and features of hearing instruments in clear and easy to understand language.
If you like what you see, share it so others can benefit