Assisting Your Hearing Aids to Deliver Better Hearing in Complex Situations
As the Coca-Cola advert says, Holidays are coming, Holidays are coming. While you are rushing around thinking about presents for others, have a thought for yourself. While an iPad might be nice, what about something that can help you hear better in the tricky situations you still have issues in? Let's talk about situations and solutions.
The Damn Noise!
The damn noise, even with the best hearing aids in the world noise situations can be a problem. But hey, there can be a fix for that. Meet the remote microphone, probably one of the best solutions to increase your ability to hear in noisy or complex situations. What's even better, every hearing aid brand has one and they are not outrageously expensive.
Remote Microphones
In noisy situations like restaurants, you have many speakers and sound coming from different directions, wireless microphones can help you to understand and become involved in the conversation. In larger group conversations, like work meetings or social get-togethers like Dinner Parties, wireless microphones can offer you improved understanding. In lectures or presentations, when the device is clipped onto a speaker's clothing or worn around the neck, wireless microphones allow you to understand better from afar.
At present, there are two overall types of remote microphones, one type will stream audio directly to your hearing aids without any other device. The other type needs an intermediary device to do the job. I will deal with the standalone devices and their manufacturers first.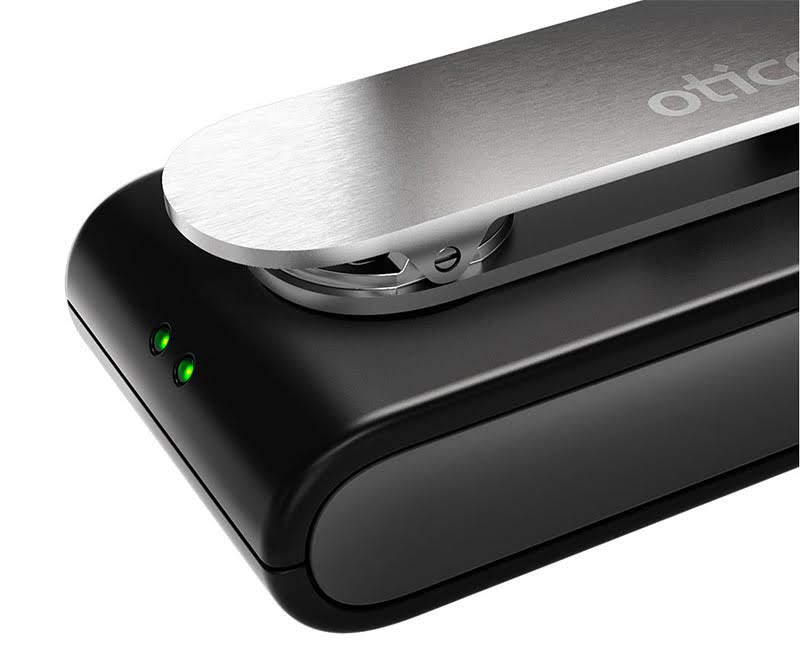 The Oticon Connect Clip
This is a recent addition by Oticon and it is a pretty excellent device. Not just a remote microphone, it also acts a remote control and a mobile phone streamer. That's a lot of bang for your buck if you own Oticon Opn hearing aids. The beauty of the device is that it connects directly to your hearing aids, no intermediary device. So that is help in noisy situations, stream audio and music from any Bluetooth enabled phone and a discreet and svelte remote control for your hearing aids, damn, what's not to like right? You can read more about the Oticon ConnectClip here.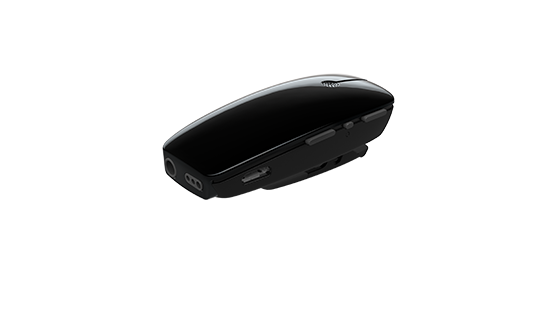 Resound Remote Microphones
Resound Multi Mic
The Resound Multi Mic remote microphone offers a small, flexible solution to let you hear remote speakers without having to wear an extra device around your neck. It also offers real help in a noisy environment with its intelligent microphone array. Place the ReSound Multi Mic horizontally on a level surface, such as the table, and it automatically switches to a mode optimized to pick up the voices of multiple speakers.
This is an ideal solution to give you a real boost in complex sound environments if you wear hearing aids from Resound. For one-on-one situations, simply clip the device on to the clothing of the person you want to talk to and enjoy the conversation, even in background noise. The table microphone feature makes it possible to hear what everyone around you is saying. The Multi Mic also connects to loop and FM systems (with an FM receiver) and has a mini-jack input for streaming audio from virtually any device with a headphones output.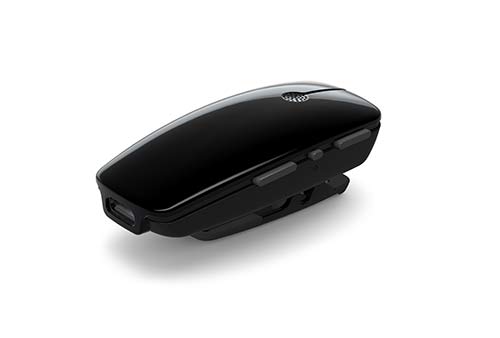 Resound Micro Mic
The ReSound Micro Mic remote microphone lets you hear from a distance up to 80 feet away* without having to wear an extra device around your neck. The device itself is about the size of a matchbox, so it is very discreet. You simply hand the device to the person whose voice you want to hear. They can clip it on their clothes or wear it around their neck on a lanyard. The device is really handy for those tougher sound situations, like hearing the person across from you in a restaurant or the people sitting in the back seat of your car, their voice will be streamed right to your hearing aid. This way you can feel confident that you won't miss out on what is being said when you're out with family or friends.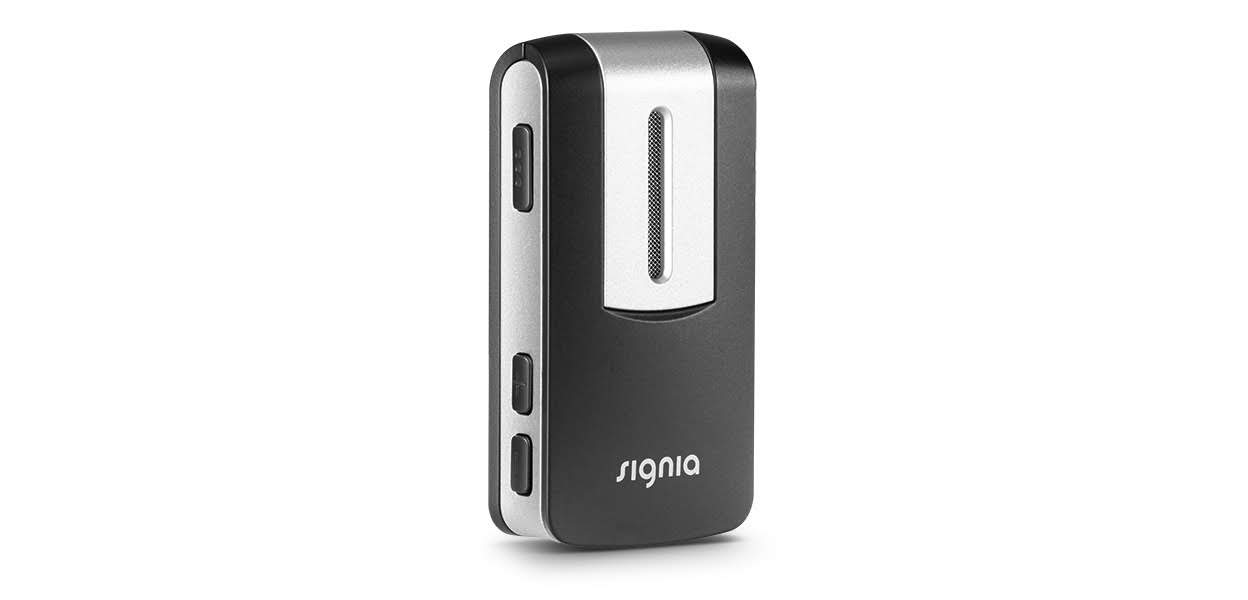 Signia StreamLine Mic
This is a pretty cool device, like the Oticon ConnectClip it is a multifunctional device. It acts as both a streamer for mobile phones and a remote mic. Unfortunately, the new StreamLine Mic won't be available until early 2018 and it is only compatible with Signia's latest Nx hearing aids. The device provides full hands-free audio streaming of phone calls and music with any Bluetooth smartphone as well as being an outstanding remote microphone. This device will be standalone, so no need for a second device.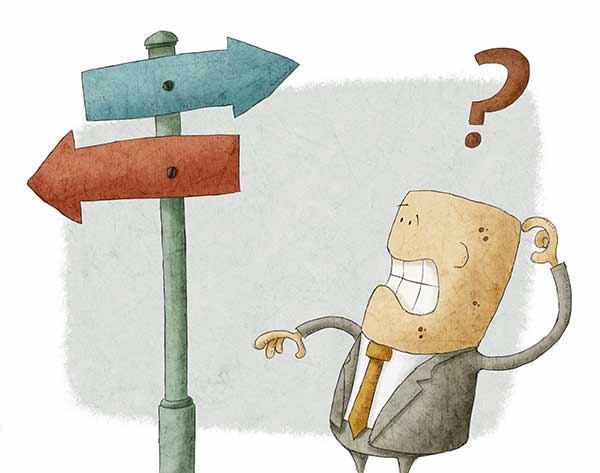 Confused About The Right Hearing Aid For You?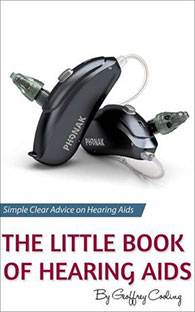 Our buying guide, easing the confusion with clear easy to understand info, we guarantee it will help you pick the right hearing aid for you.
Widex Remote Mic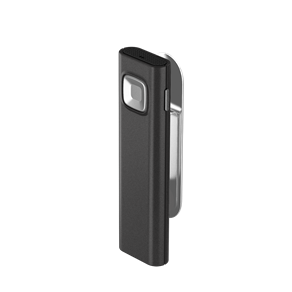 Widex introduced a pretty stylish remote mic in late 2016, the device works similarly to the ones we have discussed so far with one exception. To use the Widex remote mic, you also have to use their Com Dex streamer. So in essence, you need two devices, not one. That is the case pretty much with all of the hearing aid manufacturers outside of Resound and Oticon.
The COM-DEX itself is a streaming device which allows you to connect to any Bluetooth enabled mobile phone. As I said, the COM-DEX Remote Mic is a stylish and discreet solution. It will allow you to hear conversations in complex environments easily. COM-DEX Remote Mic is the answer to difficult one-to-one conversations in noisy restaurants, at dinner parties, in the car or in situations such as lectures.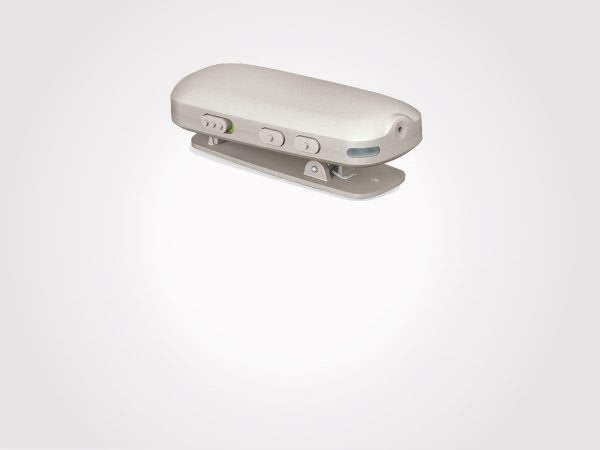 Phonak RemoteMic
Phonak have a really svelte remote mic device which I personally have had some great success with. Unfortunately, Phonak devices also need to use a neck streamer which means you need two devices. You can use their ComPilot which is a slightly larger streamer or their ComPilot Air which is pretty small and much more attractive.
The small and light Phonak RemoteMic is an easy to use solution for noisy situations and one-to-one conversations over distance, for example in a lecture. Like the others, you just clip the device onto the speaker's clothing and it transmits the speaker's voice directly to both hearing aids. through either their ComPilot device or a ComPilot Air device. Phonak say the transmit distance is up to 20 meters (66 ft).
Unitron Remote Mic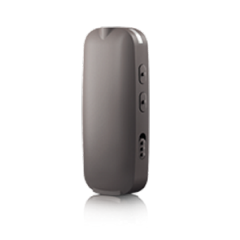 The uMic is a personal wireless microphone system which lets you hear your companions more easily in complex listening environments. You simply attach the uMic to the person you wish to hear using the built-in clip or lanyard loop. The device streams audio directly to both hearing instruments, through their streamers uDirect 3, uDirect 2 or the really pretty uStream.
Again, it means two devices, the microphone and a streamer. However, the two devices offer you real value, a streamer which will allow you handsfree calls and streaming audio and a device that will help you in complex sound environments.
So, to now I have dealt with remote mics, really cool devices, but there are also streaming devices and TV streamers to be considered. I will talk about them next. Listen, treat yourself, get out there and get yourself a device to make your life easier.
TV Streamers
Generally, most people get on pretty well with the TV, however, sometimes some people need a boost. Each of the hearing aid brands offers TV streamers to help out. The TV streamers connect wirelessly to your hearing aids, streaming the audio directly to your ears. You can even turn the TV volume down, you will hear the audio, even if no one else does. Again there are two types of TV transmitters now, ones that stream direct and others that stream through an intermediary device.
ReSound TV Streamer 2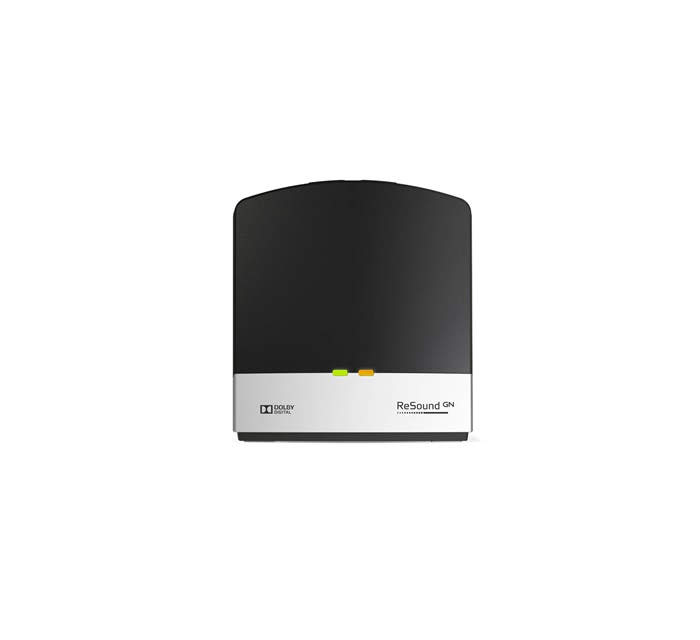 The ReSound TV Streamer 2 basically turns your hearing aids into wireless headphones. The range is up to 7 meters. All ReSound Smart Hearing aids and TV models are compatible with the ReSound TV Streamer 2. It can be also be used for your stereo or computer as well. The beauty of this type of system is there is no intermediary device. So you don't need anything around your neck, it just streams directly to your hearing aids.
Phonak TV Connector

Phonak have just introduced a new Made For Any phone Bluetooth enabled hearing aid. It is called the Audeo B-Direct and you can get a full rundown on it here. In any way, if you have bought a set of these you should treat yourself to the TV Connector, which uses their proprietary AirStreamTM technology. It is designed to be a state-of-the-art compact multimedia hub that seamlessly connects you to your favourite TV programming. It's a plug and play solution that automatically turns a pair of Audéo B-Direct hearing aids into wireless TV headphones. The TV Connector can also connect and transmit to multiple sets of Audéo B-Direct hearing aids simultaneously. That's a pretty good solution for couples with hearing loss. This device will only work with the Audeo B-Direct.
Signia StreamLine TV Transmitter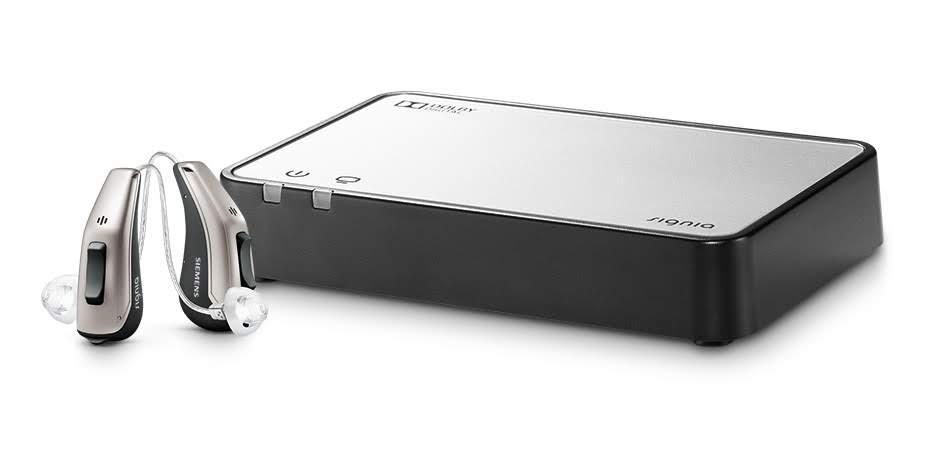 Signia introduced the StreamLine TV transmitter, alongside the Pure® 13 BT which was their first ever Made For iPhone hearing aid. The device delivers high-quality stereo sound – streamed from your TV or connected audio source via Bluetooth® LE – directly to your hearing aids. Pairing the hearing aids with the StreamLine TV transmitter is as easy as placing the hearing aids on top of the transmitter box to allow the auto-pairing process to complete. The device is compatible with the Pure 13 BT Px and all of the new Signia NX devices. If you own any of them, you should really think about getting yourself a StreamLine TV transmitter.
SurfLink Media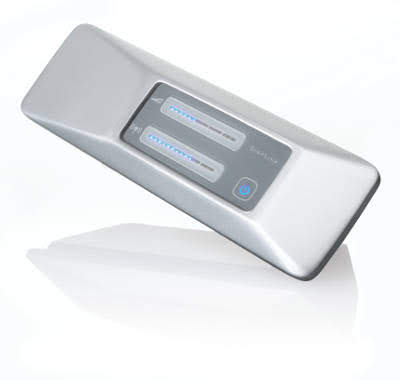 The SurfLink Media accessory allows multiple Starkey hearing aid users to wirelessly connect their hearing aids to a TV or other audio or media device. That means that several people in the same house can listen to the streamed audio. As with many other devices of this nature, connecting to the device allows you to listen at the volume level you are most comfortable with, without bothering others in the room.
The device will connect both to a TV or a stereo system and stream sound directly from those devices to your ears. This allows you to adjust the volume of the sound through your hearing aids while never changing the volume of the TV or stereo you are listening to. It is a completely automatic system, once you set it up it just works.
Once the streamer is turned on, when you come into its field of transmission, you automatically hear the streamed audio without you having to do anything. If you had different streamers set up in different rooms you will automatically change over to the different audio being streamed as you went from room to room. Its seamless, automatic and easy to use.
Widex TV Dex
The TV-DEX works with all of Widex's wireless hearing aids, so if you have a set of wireless-enabled Clear, Dream or Unique hearing aids the TV-DEX will work for you. The sound quality from the streaming system used by Widex is outstanding so you will enjoy distortion-free wireless transmission of TV sound directly to your hearing aid via the remote unit.
The system will work with two audio inputs which you can switch between with the remote unit. You can also adjust the sound volume of the streaming audio via the remote and turn off your hearing aid microphones in the room off function. Unfortunately, you need to have the remote either hanging around your neck or quite close to you as it is the intermediary device. You can buy the TV-DEX here.
Phonak TVLink II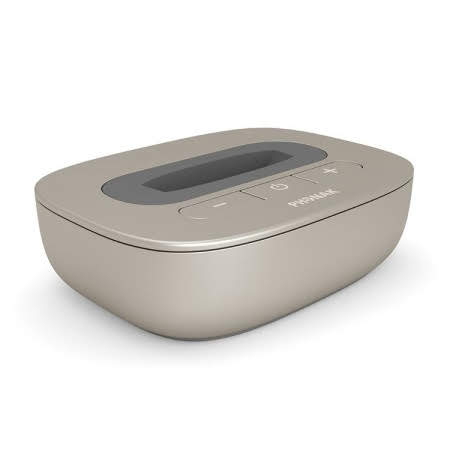 The Phonak TVLink turns Phonak hearing aids into a wireless TV or music headset with stereo sound. Unfortunately, like the TV-DEX, this Phonak system needs the base station and a streaming device that hangs around the neck. The TVLink II base station offers digital audio inputs, a dedicated pairing button and a charging slot that is also compatible with
the ComPilot Air II. The Phonak TVLink II base station is the interface to TV and other audio sources. Used with Phonak ComPilot II or ComPilot Air II, it turns any Phonak wireless hearing aids into a headset with a range of up to 30 meters (100 ft). The ComPilot devices are sold separately but they can also be used for mobile phone streaming or streaming from FM transmitter devices.
If you like what you see, share it so others can benefit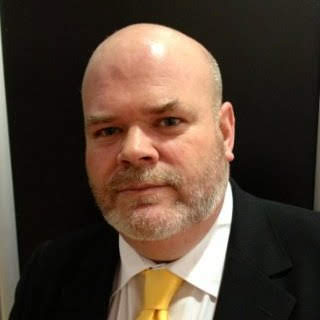 Geoffrey Cooling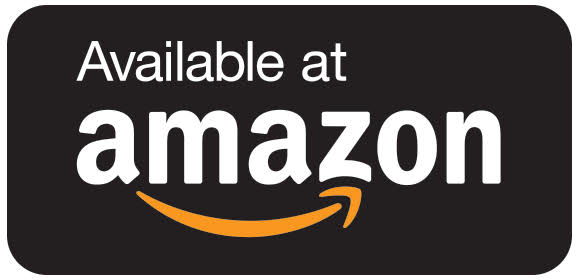 Geoffrey (Geoff, anything else makes him nervous) Cooling is an Irish hearing aid blogger and has been involved with the hearing aid industry for over ten years. He has worked in private practice dispensing hearing aids and as a manufacturer's rep. He has written two books and they are both available on Amazon. He loves technology, passing on knowledge and is legendary for many other things, primarily the amount he curses, his dry and mischievous sense of humour and his complete intolerance of people who are full of themselves.
Please feel free to connect with him
Looking For the Latest Hearing Aids or A Hearing Test?
Arrange a consultation with a trusted Independent hearing healthcare professional in your area