The end of 2018 was fascinating in the hearing aid world. The LiNX Quattro release by Resound was closely followed by the Audeo Marvel release by Phonak. On top of that, Starkey pushed out their fall detection feature to some Livio users. Going into the first quarter of 2019 I think there will be clear favourites in the minds of most professionals and consumers alike. I also think that 2019 will be a bumper year for new introductions by a few of the brands. Let's talk about the stand-out favourites for 2019, the platforms that are available and finally who I think will introduce new stuff. It's all crystal ball stuff though I warn you, crystal balls and educated guesses.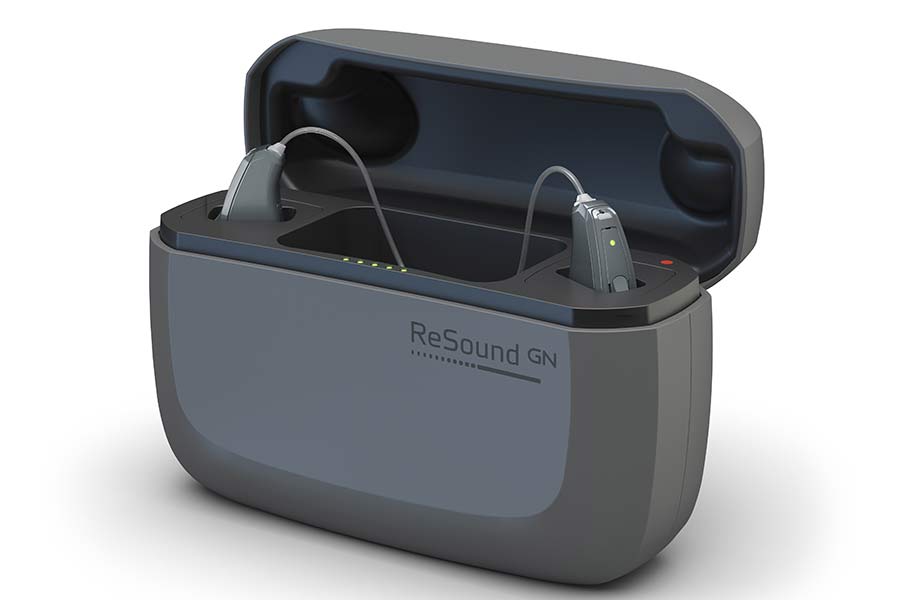 Resound LiNX Quattro
I think the Quattro will be a big contender in 2019, it is the aid with pretty much everything, except better. Outstanding battery life, fantastic iPhone connection and hopefully Android connection soon, good looks and outstanding sound. Kind of what's not to love? As you may know, I have tried the Quattro 9 devices and have been exceptionally impressed with them as has Steve.
For me, what really sets the Quattro apart, is the pretty amazing battery life delivered. Resound has delivered a lithium-ion powered rechargeable device that provides over thirty hours of use. That's amazing. The charger case concept is also excellent, several days of extra power in your carrying case! The hearing aids have already proven very popular and judging by the traffic we get to Quattro pages on the site, they will continue to be into 2019.
It will be interesting to see what Resound do next with the Quattro. Going on historical precedent (The original LiNX) we may expect a Quattro take 2 shortly that is a full line up of models. I think that would please many people. I would also half expect to see an Enzo Quattro in the near future. At the moment and for at least the near future, if you want a Resound BTE or ITE, you need to fall back on the LiNX 3D range.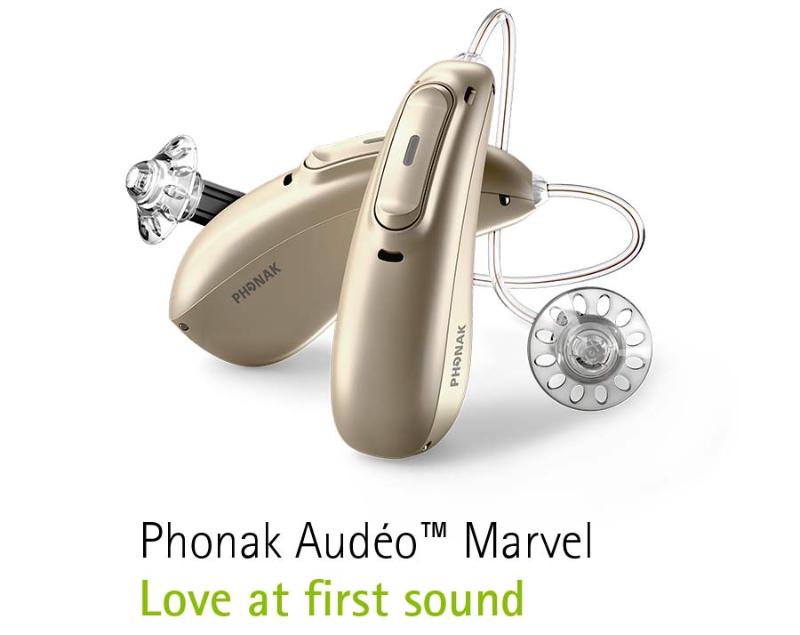 Phonak Audeo Marvel
The Audeo Marvel is going to be seriously popular in 2019 and there are good reasons why. The hearing aids and the associated features have really caught the imagination of the buying public and the hearing care profession. Although with simple and easy connection to any Bluetooth enabled audio device, it's easy to see why. I have tried them myself and I see the value of the devices. Phonak have really extended the launch of these devices, more so than ever before. The full Audeo range isn't really expected to be released until late 2019. That is fascinating, They often stagger the release of a platform, I can't ever remember them staggering the release of a model line up.
I still expect them to introduce the Bolero late next year, going on the Audeo launch, perhaps that will be staggered as well. While I think the Audeo Marvel will do well, it won't be the king of aids that it might have been because of the limited model types. If you want a Phonak BTE or In The Ear device you will have to fall back on the Belong, or wait.
Starkey Livio AI
Starkey is finally introducing the Livio AI to a wider audience this year. For me, this is probably a standout hearing aid because of the new functionality concept that Starkey is bringing to hearing aids. The Livio AI was already a very different hearing aid from anything else before they made their announcement at CES 2019. Now the Livio AI represents a completely new use case for hearing aids. In fact, it probably represents a completely new type of device concept.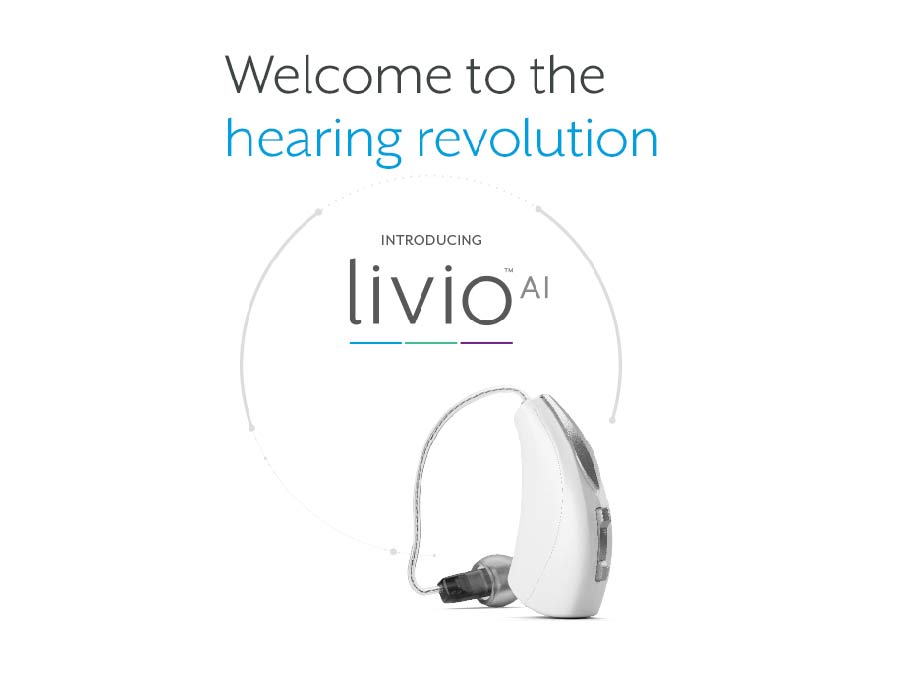 Driving A New Concept
Starkey is at the forefront of driving the change of use case for hearing aids. As I said, this is really a new device concept, yes it is a hearing aid, but it offers far more than just that. It also focuses on overall health and wellbeing. Starkey is introducing capabilities and features that move the Livio AI towards an integrated health device concept. Here are the features including the new ones.
Translation in 27 languages
Amazon® Alexa connectivity
Rechargeable option – NEW
Fall Detection and Alerts – NEW
Heart Rate Measurement – NEW
Voice-to-text Transcription – NEW
Natural user interface with tap control
Self Check for hearing performance – NEW
Thrive Virtual Assistant, built on Google Assistant – NEW
So that's the three big contenders so far for 2019, let's get into the predictions. In no discernible order:
Oticon Opn S
I originally said in this article that Oticon will deliver a new platform in 2019, the Opn has been an outstanding success but it is pretty old now. I wasn't wrong, Oticon has just announced the introduction of the Opn S platform which is the new platform from them.
In fairness, Oticon surged ahead with the Opn, but the others are catching up. I still think it is one of the best hearing aids around though. Oticon has made some bold claims about the new Opn S and the benefits delivered over the original Opn platform. They boil down to 15% improved speech understanding, 10% reduced listening effort and finally, 10% increased memory recall.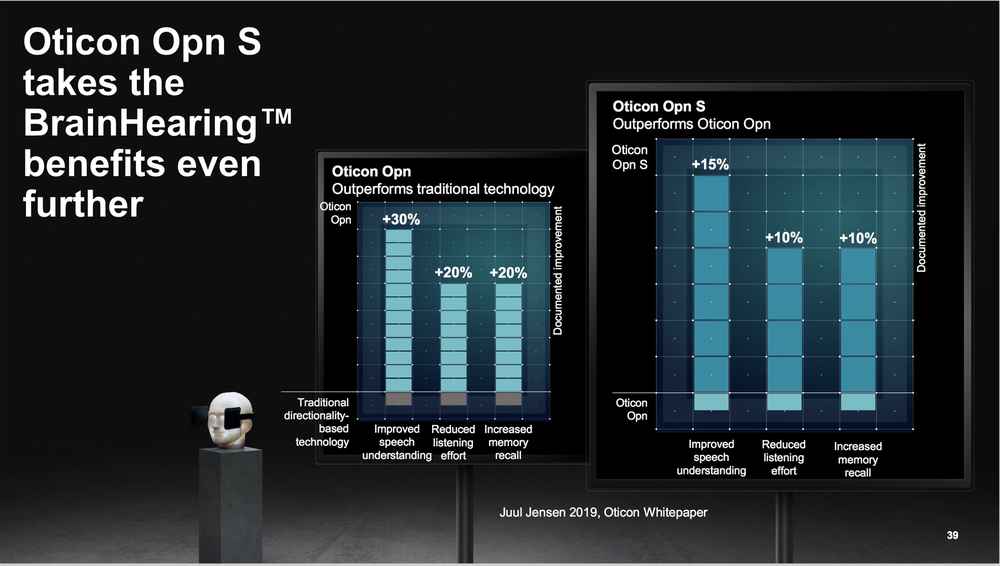 Source: Demant A/S financial presentation
The announcement said that in addition to better sound processing, the new hearing aids will feature dramatically improved feedback cancelling. Oticon believes the new system in the Opn S will eliminate the problem entirely. The company also mentioned a new OpenSound Booster in the Oticon On App. Details on this are exceptionally scarce but we expect to be able to update you in the very near future.
Four Models

The new range will initially come in four model types at three levels of technology and the market rollout of the Opn S family will start in March. The model types look like a Mini RITE, a Mini RITE-T, a Lithium-Ion rechargeable Mini RITE-T and a 13 BTE. As I said, this will be the first time Oticon goes with a lithium-ion power source. The details are scant and we would expect them to become clearer as we get close to launch time.
I would also expect them to push their remote care system this year. With the introduction of the Kaizn app, Oticon has invested in machine learning. It will be interesting to see how they leverage that in the marketplace and what they do with the data.
Signia
I said when I first wrote this article that "Signia is just off the back of a very successful launch of their Nx platform, however, I don't expect them to be quiet in 2019. I would expect a launch from them, but I think it will be a model type, rather than a new platform. Could be wrong though, Signia is one of the hungriest in the market and they don't work by the usual strictures of the industry, so anything is possible, if not probable." I was right, Signia has launched a brand new model called the Styletto Connect. I still think we may hear more from them in late 2019.
Styletto Connect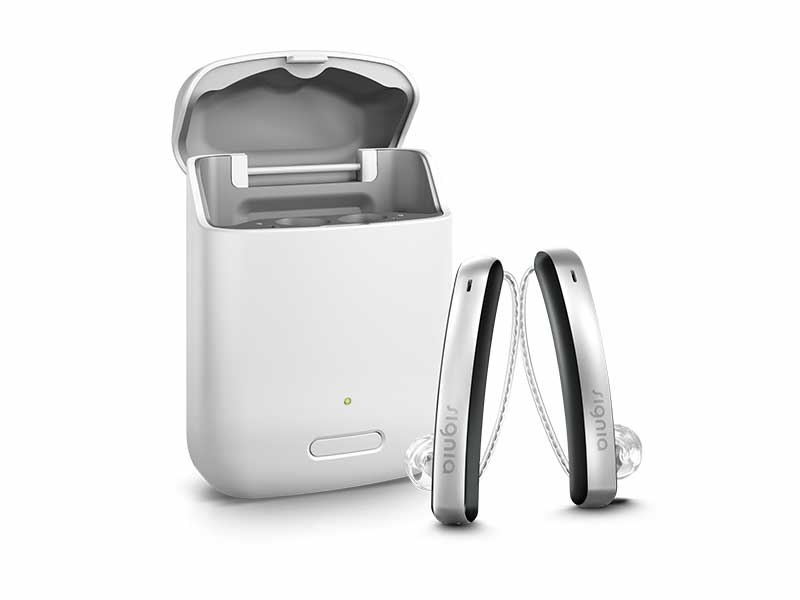 The Styletto Connect hearing aid is a discreet device that offers coverage for mild to moderate hearing losses. It is an attractive if different design and reminds you of high end electronics as opposed to traditional hearing aids. The charger case is outstanding and it delivers four extra charges for the devices which means you can go away for a long weekend and forget your plug.
Like the original, the receiver is fixed in the hearing aid and can not be replaced in the clinic, it will have to be a factory repair job. That means that you will need to take care of it to ensure it doesn't fail. Generally, people do not take care of their receivers, we see them failing all of the time through user negligence. They get full of wax and moisture and die.
Three Levels of Tech
The new model will be available across the three usual levels of Signia tech, the 7, the 5 and the 3. If we hear anything else, we will update the page.
The Relevant Power Facts
Signia say that Styletto Connect's high-capacity power cell will allow for enhanced Bluetooth connectivity. This will enable users to enjoy high-quality, long-lasting stereo streaming of TV audio, music, and phone calls directly to both hearing aids.
They say that you will be able to stream up to five hours per day and still benefit from 16 hours of battery life before needing to recharge. That's pretty good streaming time and battery life. So for a quick overview:
Up to 16 hours of battery life with 5 hours of streaming
Just 3 hours to fully charged
30 mins of charging gives 6 hours of use
Easy wireless charging, drop them in the charger and voila
Made For iPhone, Direct connection to iPhone
High-quality audio streaming
Ultra HD e2e and Bluetooth connectivity
Unitron Discover Hearing Aids
Unitron is going to deliver their own version of the Marvel in the middle of May this year. Unitron has been teasing their new Discover with both professionals and consumers alike for the last month. The Discover is their answer to, or version of, the Phonak Marvel. Unitron and Phonak, their sister company both share hardware. Again, what Unitron does with the hardware tends to be different from what Phonak does. The details from Unitron are slim at best, but let's look at what we can guess.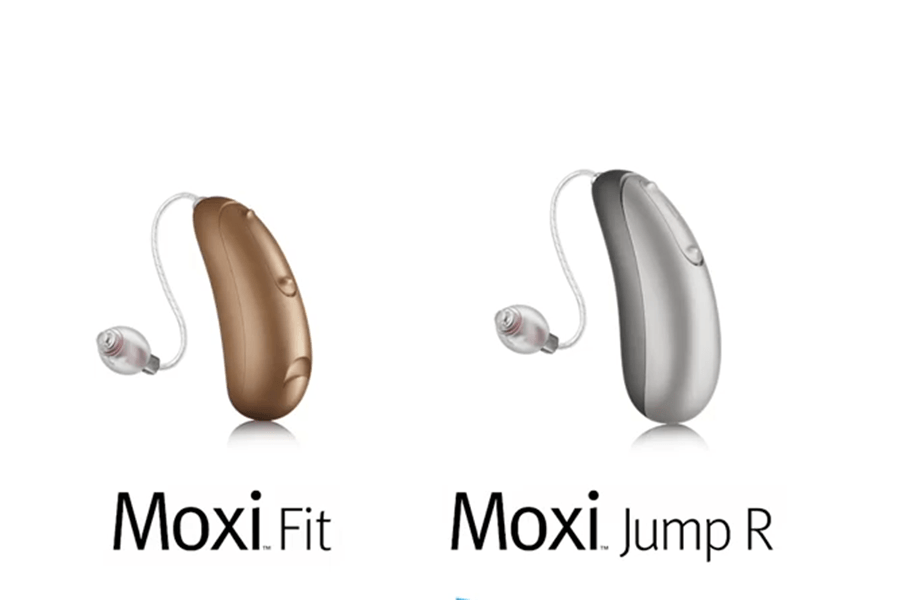 Two Hearing Aids
Interestingly enough, it appears for the first time ever that Unitron may not be launching a full set of Receiver In Canal (RIC) devices at launch. This is a real departure for Unitron, while Phonak did this with the Audeo Marvel, I would not have betted on Unitron doing the same thing. It appears that there will be a size 312 traditional battery RIC and a lithium-ion powered RIC at launch.
Made For Any Phone
We do know that the devices will be Made For Any Phone hearing aids which will mean a seamless stereo connection to any Bluetooth enabled cell phone or sound source. I would assume you will be able to take calls just by pressing a button on the hearing aid. Here's one of the videos doing the rounds.
Bernafon Viron Hearing Aids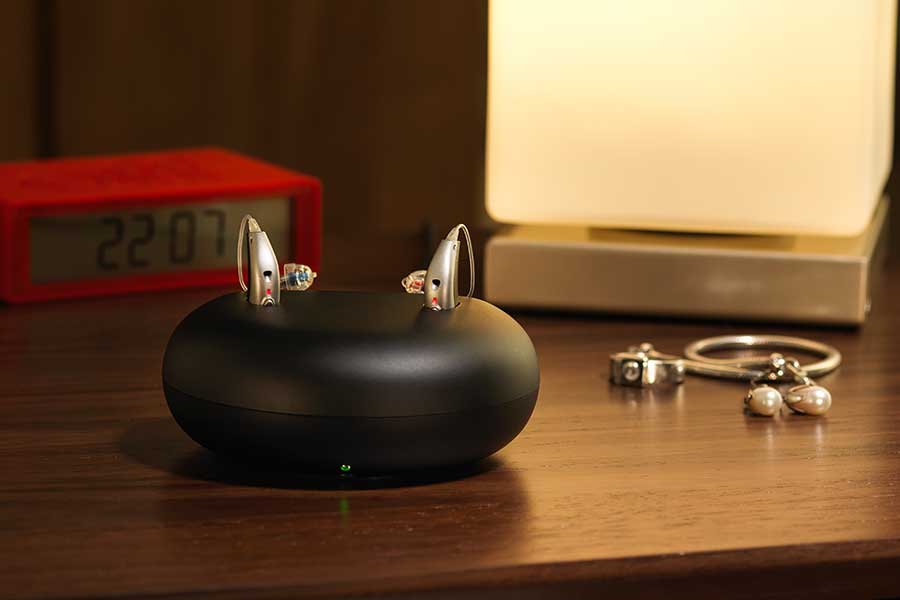 Bernafon Viron Rechargeable hearing aid
Bernafon announced the Viron in a press release on April 1st, they said "Bernafon Viron is the industry's first True Environment Processing™ hearing aids. The new chip platform delivers super-fast sound detection and processing so that users can receive more precise information about their environment in real time. Viron also includes a newly patented feedback cancellation system and is available in a brand-new rechargeable style." Since then a couple of promotional videos have turned up online. There seems to be a greater focus on the handling of music than before.
Bernafon will launch the Viron to the market in late May 2019. As you may know, or not, Bernafon is owned by Demant and shares its hardware (the hearing aids) with both Oticon and Sonic. However, Bernafon uses that hardware differently from the others and they have a very unique way to process sound and speech. I will be interested to find out what they mean by true environment processing. The video looks interesting, to say the least.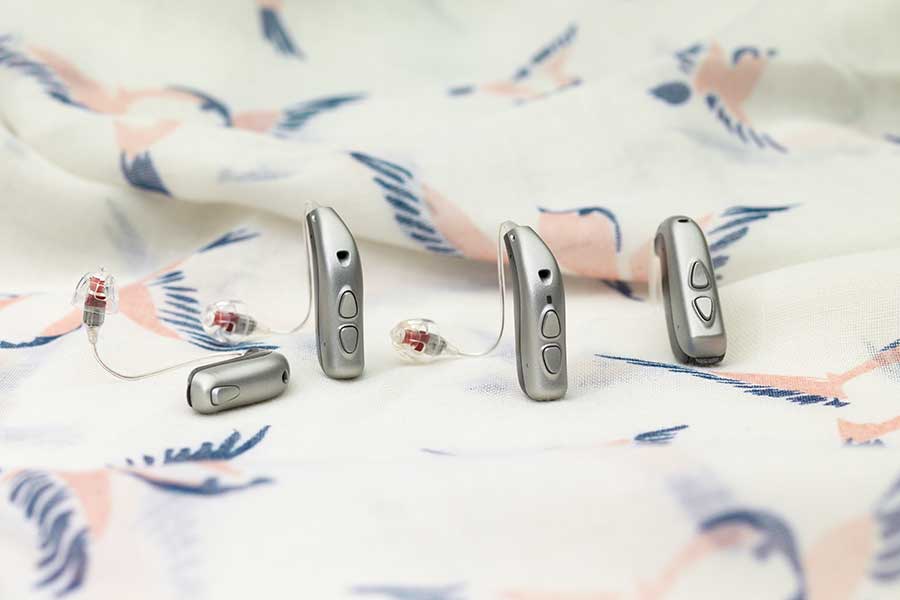 Four Hearing Aid Types
The Viron range will be available in four hearing aid types, three Receiver In The Ear models (one of which will be a lithium-ion powered rechargeable which you can see in the top pic above) and a Behind The Ear device. The hearing aids will be initially available in the top three levels of Bernafon technology, the 9, the 7 and the 5. The range will cover hearing losses from mild to severe to profound as does their existing Zerena range.
Widex
I think 2019 will be the year that Widex finally launch their much-vaunted fuel cell device. It will be interesting to see what the market makes of it. It will also be interesting to see what type of feature set it has and exactly what market it is aimed at. Their current platform is the recently launched Evoke which is a pretty impressive platform. The machine learning feature is unique, or at least was unique until Oticon introduced their Kaizn app.
Remote Care
I think 2019 will be the year of remote care, nearly all of the major brands have introduced remote care systems and I see consumers being attracted by the benefits.
Lithium-ion Rechargeables
I also think 2019 will see the introduction of more lithium-ion rechargeable hearing devices by more brands. The Z-Power system was a fantastic idea but has proven problematic out in the world. Mores the pity really, but I expect most of the brands to switch to lithium-ion as a result.
Sensor Sets
I think Starkey has shown the possibilities here and I believe others will follow. The introduction of sensor sets to hearing aids in a wider manner will begin in 2019, who knows, maybe Signia has their eyes on the prize?
Hearing Aids as Your Personal Assistant
Oticon has begun to show the way here with the introduction of the Kaizn app. I think this concept will be expanded and I would expect some of the brands to run with it. Again, to be honest I was surprised that Unitron didn't do it. Their focus on the consumer has led to some really interesting and innovative ideas, so I half expected them to move this way.
Anyway, as always, this article will be continually updated in 2019, bookmark it so you can come back and laugh at my predictions and stay abreast of what happens. Like us on Facebook below, while you are at it, cause if you liked this, you may like our other posts.