What are the best hearing aids innovations in 2019?
We have barely started 2019 and already we have seen announcements about groundbreaking technology from the hearing aid brands. Like 2018, 2019 will be a year of emerging new technologies, hearing aid features and indeed hearing aids which I believe will affect the future of hearing aids for years to come. Let's take a look at the innovations in 2019 that will make a difference.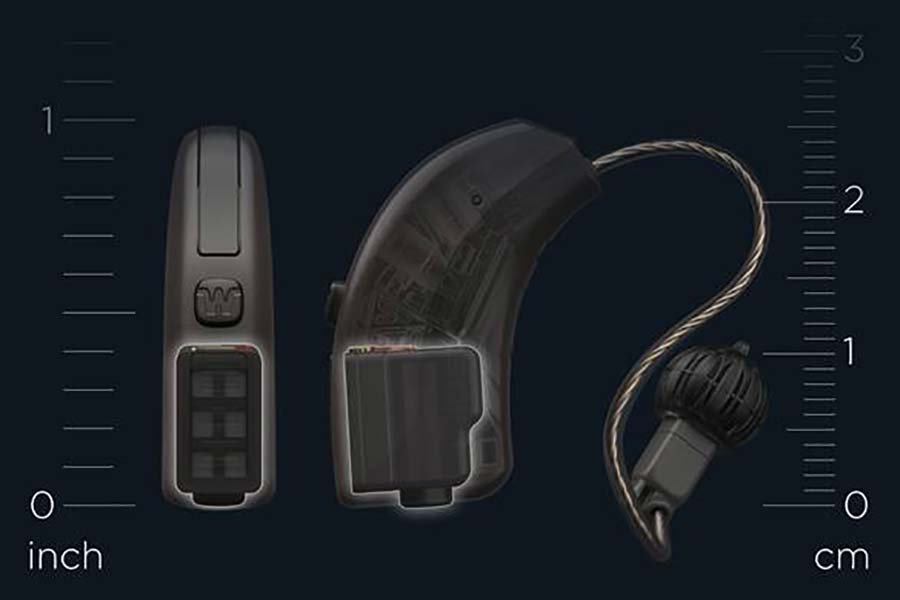 As I said, 2019 is barely ten days old and we already have a host of announcements about upcoming hearing aid tech from some of the big brands and some of the big component makers. I was expecting CES to be exciting, I really didn't expect that I would hardly be able to keep up. While I will cover innovations in tech, I will also cover innovation in the business model.
The Biggest Hearing Aid Innovations
I think the biggest innovations around hearing aids for 2019 will be the following:
Fuel Cell Technology (Widex)
Deeper integration of sensors in hearing aids (Starkey first, then probably everyone!)
Rechargeable custom hearing aids (not sure who will be first)
Deeper integration of personal assistants (Resound, Starkey, Probably Signia and Widex)
Artificial Intelligence integration (Resound, Starkey, Oticon)
Upgrades of hearing aid functionality (Widex, Resound, Starkey)
Made For Android (Resound initially)
Widening use of telecare to change hearing aid business (hearing care profession)
Fuel Cell Technology

Widex was named a CES® 2019 Best of Innovation Awards Honoree for WIDEX EVOKETM featuring WIDEX ENERGY CELL™ technology in the Fitness, Sports and Biotech product category. After working towards this day for many years, Widex has finally perfected the Fuel Cell for hearing aids. This has been a challenging innovation for them to realise and there were many false starts during the last few years. We were beginning to think it was a Unicorn, but here it is, hearing aids without batteries!
How Does The Fuel Cell Work?
The Fuel Cell technology is based on Methanol, the small fuel cell inside EVOKE EC gets energy from the refill unit, which holds a methanol cartridge. Once the methanol meets the air inside the fuel cell, electrical energy is produced to power the hearing aid. The only waste from this reaction is vaporised water and negligible amounts of carbon dioxide.
What Difference Will it Make?
Holy crap! Is that succinct enough? So, details are sketchy at this point, and we expect things to become clearer as they move towards launch. However, this technology really does have the potential to change the hearing aid world forever. Hearing aids without batteries, no charging, no need for a plug, no need to buy batteries, a simple 20-second charge of Methanol and you get 24 hours of use.
The possibilities for the technology are endless, however, we need an answer to a lot of questions as well. Questions like, are the hearing aids wireless? Are the hearing aids Bluetooth Enabled? If they aren't, why not? Will you be able to fly with them? Can you carry the charging station in hand luggage? I really do think that this is a huge breakthrough, however, until we answer all the questions, we really don't know will it be a vanity technology or a true paradigm shift.
Biometric Sensors Again!
Yup, I talked about Biometric sensors last year after Starkey introduced the first hearing aid with a sensor onboard. I thought things would pick up in 2018 and I was right. Sonion and Valencell partnered to introduce the very first Receiver In Canal with an embedded biometric sensor. They have called it BiometRIC, the breakthrough opens up the opportunity for hearing aids to become integrated health monitoring devices.
The BiometRIC receiver in canal is optimized for size and will measure heart rate, R-R interval, activity levels, energy expenditure, and will provide a platform for future innovations in hearing health devices. Biometric sensors offer comprehensive vital sign information and placing the sensor in the receiver (speaker) in the canal gives it perfect access to the best place to track that info.
What Difference Will it Make?
The possibilities are endless really, quite often people with hearing loss suffer from other so-called comorbidities such as cardiac issues or diabetes. It will mean that their hearing aids can help to monitor the condition as well as help them hear better. Even if a person with hearing loss is fit and healthy, they generally want to stay that way. The addition of sensors will mean that they can monitor their fitness levels while hearing better. Starkey was first with sensors and they have announced that they are releasing several updates in functionality to their Livio AI devices in March and the new BiometRIC will be part of that launch.
Rechargeable In The Ear Hearing Aids
The rumour mill has been going for some time in relation to rechargeable custom hearing aids. I think they will be released this year, but I am not sure who will release them first. I think there is a good possibility of it being Signia or Phonak. I base that really on educated guesses. Both of the brands have a lot of experience now with lithium-ion cells. Sonova (owners of Phonak) through the purchase of Hansaton has real-world experience with rechargeable custom hearing aids, while Signia has been ever inventive with the design and shape of lithium-ion cells. I do believe we will see the devices, although it may be late in 2019, or even 2020.
What Difference Will This Make?
Rechargeable hearing aids have proven massively popular. While initially many thought of them as ideal hearing aids for people with eyesight or dexterity issues, that attitude has changed. I said myself, I didn't realise I loved rechargeable hearing aids until I tried them, and it is proving to be the same for many new hearing aid users. A rechargeable custom hearing aid would be exceptionally popular with the buying public.
Personal Assistants
I have had a dream for more than a few years that my hearing aids could be my personal assistant. It seems that in 2019, they may just be moving towards that dream. Resound started the excitement with the announcement that they were introducing both Artificial Intelligence and Siri integration to their latest hearing aid ranges. This was quickly followed by the Starkey announcement about Google Assistant integration into the Livio. This is just the beginning for this type of concept and I would expect the integration to become deeper and the functionality to explode over 2019 and beyond.
What Difference Will it Make?
With this type of functionality, your hearing aids will become an integrated part of your life. They will no longer be something you have to wear, they will be something that you want to wear. They will make your day to day life easier. Keeping you apprised of your schedule and the updates during your day that are important to you.
Artificial Intelligence
Widex were the first brand to make steps forward with machine learning in their Evoke range. The system is an outstanding example of innovation from a company who is renowned for it. They have pointed the way and the other brands have most definitely picked up the challenge. Both Resound and Starkey make claims about Artificial Intelligence integration with their hearing aids. In both cases, details are a little scant as of the writing of this article. It remains to be seen if what they are introducing is Machine Learning or true Artificial Intelligence. There is a distinct difference. No matter, the Widex machine learning system has already proved its worth and Widex hearing aid users across the world are benefiting from it, even if they don't use it.
What Difference Will it make?
Machine learning is making a huge difference right this minute, Widex is using data from thousands of hearing aid users across the world to continually make their Evoke hearing aids better. That is the beauty and the power of the system, it learns from real-world use and integrates its learnings into existing hearing aids. Artificial Intelligence will take that system one step forward, and if it happens in real time, it will ensure that hearing aids are reacting and upgrading their function constantly.
Upgrades of Hearing Aid Functionality
This is something that we are seeing from many of the brands this year. We have seen firmware updates pushed out from Widex, Oticon and others before. However, this year it really appears to be a top line concept. Resound announced that their new AI system will continually introduce new upgrades to existing hearing aids. Starkey has just announced that it will upgrade the Livio AI with new functionality. Widex designed the Evoke machine learning system to ensure that Evoke hearing aids would be upgraded to function better continuously.
What Will it Mean?
I see this as a bit of a sea change in the industry, it will mean that the hearing aids you buy today, will, in fact, get better tomorrow. That is a paradigm change, before now if you wanted better hearing aids, you bought the latest ones. Hearing aid technology is moving so fast though, that this will probably never change. Yes, your existing hearing aids will get better, but the latest super duper ones will still be an inviting proposition.
Made For Android
Made For Android is finally expected to land this year, Resound announced that they are working on the protocol with Google and they expect to push it out to the Quattro hearing aid range this year. I would expect the other brands to follow late in 2019 or 2020.
What Will it Mean?
It will mean that all the pretty cool functionality that is available to many hearing aid users with iPhones, will now be available to Android users. It also opens up possible new functionality and a deeper partnership with Google with an eye towards future technology concepts like Google Assistant as an integrated personal assistant.
Business Model Changes
While this isn't a new technology, I think it will be driven by new and innovative hearing aid technology. Just recently we reported on Lively Hearing who are offering hearing aids in a new and unique way with remote care. I think this is probably the first example of a growing hearing aid channel. The recent advancements in telecare for hearing aids ensure that business models like this can exist and thrive. I don't think it will be the end of the existing channel, I think it will be an accompaniment to it. I mean not all hearing aid users are willing to buy online, not all hearing aid users are actually suitable for this type of online model. But, there certainly is a place for it.
I think that this is just one example of possible changes we will see to the hearing aid purchase model in 2019. The possibilities are endless, unbundled purchases, buying different service levels, subscription models, renting hearing aids, who knows? There are new players becoming involved with new ideas and experiences of completely different purchase cycles. More than that, existing businesses are looking for new and innovative ways to remain relevant to consumers. To be honest, I really don't think consumers know what they want. But I think 2019 will be the start of finding out!
Multifunctional Communication Devices
With the advent of recent technological innovation, hearing aids are changing dramatically. The use case for hearing aids up to now has been simple, help you hear better. Moving forward though, they will become multifunctional devices centred around communication in all of its rich detail. The use case for hearing aids is changing, hearing aids are beginning to become devices that you don't wear because you have to. You will wear them in the future because you want to because they will enrich your life in many ways beyond just hearing better.
As ever, we will update this article as the year progresses and things become clearer, so bookmark it so you can come back and laugh at me. Like us on Facebook by clicking the button below to keep abreast of the latest happening in the hearing aid world.