Widex Introduces The Beyond
The march to direct iPhone connectivity continues with yet another hearing aid manufacturer joining the fray. Widex introduced a new device called the Beyond which falls under the umbrella term of Made For iPhone. Widex has for the first time added direct smart phone connectivity on top of its now famous wireless connectivity platform, Widex Link. Updated 07/06/17, we have learned of some problems with the Beyond Fusion and connection to iPhone, you can read about it here.
Four Made For iPhone Hearing Aid Manufacturers
That is now four hearing device manufacturers with a made for iPhone capability, Oticon, Widex and of course GN Resound and Starkey. Widex has based the device on their Fusion model and FCC licencing surfaced in June for the device. AT EUHA (International Hearing Aid Conference in Germany) they introduced both the Beyond hearing aid and the Beyond app for smartphone. Every manufacturer is going down this route, but it is interesting to see Widex do it now as opposed to sometime in the future.
While Widex have now introduced a 2.4ghz BlueTooth radio to the Beyond, it has retained both the WidexLink and a telecoil on the devices.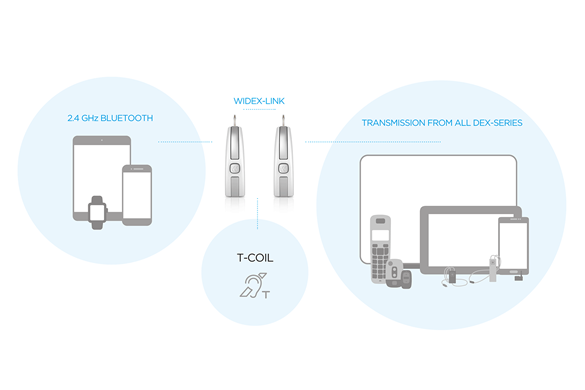 Widex Link
Retaining the Widex Link makes sense for several reasons. The first being, that it is still without doubt, the single best system available for streaming high quality audio. The second is that it will mean that any Widex users who upgrade their devices to the Beyond will still be able to use their Dex accessories. Retaining a T-Coil also makes some sense, the T-Coil system is making a huge resurgence in the United States and many in the UK and Ireland are used to using the T-Coil in public places.
Another reason which is hugely valid and was pointed out to me by someone from Widex was the fact that keeping WidexLink allowed the inter ear features of the hearing aids continue to work even if you were streaming audio to the devices. You know I was a bit taken aback by that because I hadn't actually thought about it. I have explored that in another article which you can see here. However, the question it raises is, do the other manufacturers ear to ear features continue to work when there is audio being streamed? I will find out that if I can.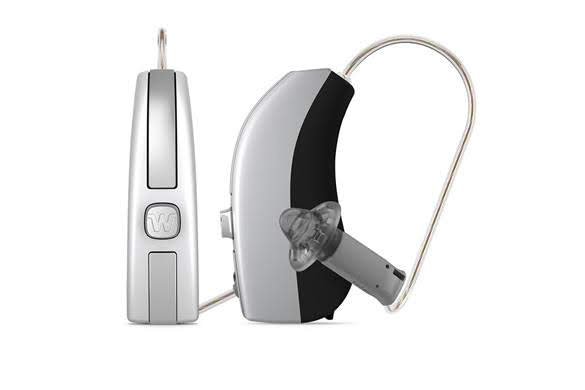 Widex
Beyond Hearing Aids
So what do we know about the Beyond? It is a Fusion device based on the Unique technology, however it is not a Fusion, it is longer and thinner than the original Fusion with a new button. As we said it also has three radios onboard, the one for Widex Link, a telecoil and the new radio for direct iPhone connection making it possible to stream music and conduct phone calls directly to the hearing aid without any intermediary device.
Widex Products are famous for their sound quality, now it appears that sound quality extends to the best sound Made for iPhone. The device seems to have been launched as a style as opposed to a platform. By that I mean the Beyond appears to fit into the Unique family in the same way the Fusion or CIC does. It is available in the usual four levels of technology, the 440, 330, 220 and 110.
The Beyond App

User Fine Tuning?
The Beyond app seems to have the usual features, you can set geo locations for different sound programmes and make changes to how the hearing aids are working on the go. However, there also seems to be an element of self fine tuning on the app, whereby users can change the frequency response of the hearing aids. They are calling this feature the Preference Control and it seems to break down frequencies into three bands, Bass, Middle and Treble. It is interesting to see manufacturers begin to hand over this type of control to users.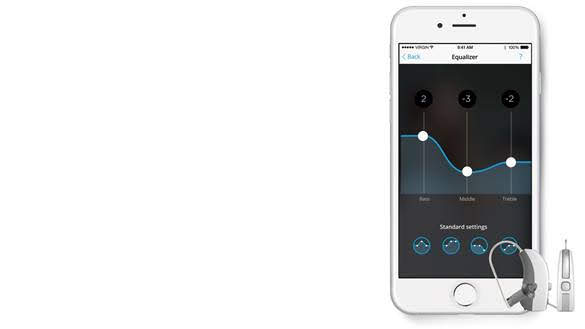 The Beyond at present appears to be only a Fusion type hearing aid, however, it will be interesting to see how and if Widex will expand the Made For iPhone range. It is a little unusual that Widex has just delivered one device as opposed to a full range.However, it probably makes perfect sense if Widex has just considered it a style or type of hearing aid rather than a platform or family.
Widex has always introduced a full range of device types with every platform. The only time before now it hasn't was during the Clear launch. They delayed the launch of the custom devices then because of technical issues. So I would wonder why they have not introduced a full range. I think it may be that the Beyond is just a hearing aid type that they are going to fit into their Unique range, and this does appear to be what they are doing.
Although in fairness to Widex, most of their competitors, except for GN Resound with the Linx2, have done something similar. I have a feeling though that Widex will not leave it at just one device. Only God and Widex know what is in their current product road map, but I wouldn't bet against a new Super Power device, a wider range of made for iPhone devices and probably rechargeable devices.
Although I think that depends on who is steering the ship, Widex has changed over the last couple of years. While the engineers are still a strong component of the business, they no longer make the decisions about product road maps. The business is now far more driven by the market demands, which makes sense, but may in essence weaken the famous Widex innovation.
I think they will base the next device on the market demands, just as the Beyond has been. Although a recent patent filing for a custom tip for a hearing aid with a sensor set that records body vitals made me more than a little excited. I thought Widex may have returned to the halcyon days of driving the technology rather than responding to it.
But hey, you never know, the engineers might win and they could deliver a hearing device next year that can be part of a deeper integrated health environment. We will keep you posted on the Beyond and the Beyond App as details come to us.
Update: Widex have today 30/03/2017 released an accompanying app for the Beyond on Android. So Android phone users can now avail of all of the functionality of the devices.
We have general details about the different types of devices in our hearing aid advice guide. It also details technology levels and features of hearing instruments in clear and easy to understand language.
If you like what you see, share it so others can benefit